At Last we have had a taste of summer weather. And about time too.  The Spring Break holiday weekend was very busy with people buying barbecue and alfresco food. We have some very tasty new products for this season, starting with our Indian style Chicken Shields, these are chicken thighs skewered spatchcock style and coated with curry flavoured oil and sprinkled with herbs and coconut, reasonably priced, and very tasty on the Barbecue. We also have our Caribbean Jerk Pork Sirloins, these are tender pork sirloins with a jerk seasoning coated in a fruity marinade. Also in these times of financial constraint, we have developed a Beef and Pork Barbecue Burgers, these are great value and also cook particularly well on the barbecue. Don't forget our home made breadcakes to complement your burgers these are baked every day in our Normanton bakery.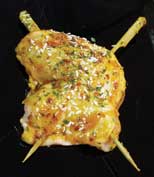 Talking about our bakery, if you have not tried our home made egg custards yet we think you should. Made with Ian Taylors free range eggs, these custards, large and small are the talk of the town. Shane and Matthew at the bakery (Father and son) are having their work cut out keeping up with demand. Chef Chris is also busy making his Luxury Coleslaw and Red Cabbage Coleslaw. These are made almost every day and are fast becoming a best seller. These go great with any salads as do our award winning Pork Pies.
We would also like to take this opportunity to congratulate Karen who we have just given the position of Shop Manager. Karen has really bought into the concept of the new shop and is always busy wherever you see her, be it filling up the wall cabinets or jumping onto a till to keep the queue down. She deserves this promotion and we are sure she will be doing her best to make your visit to Wilsons a happy one. Karen has been with us now for six and a half years and is one of many members of staff with a long service behind them, one, Butch
ery manager John Karle who has been with us for thirty years! It is this continuation of staff that we think helps us keep a friendly familiar feeling in the shop.
Occasionally it is nice to try something different for a meal for a change, well, we have just received delivery of some really tasty stir fry sauces from a company called Marinello's Hand Prepared Sauces. These sauces are all free of artificial colours and flavouring and add a real twist to a meal. My favourite is the lemon sauce. We use sliced up chicken fillets and stir fry it in this sauce. The result is a really tasty, quick meal that rivals any take away I have ever had, and I know what has gone into it. To complete the meal, just add noodles and/or rice. (Boiled or fried) Try some, you won't be disappointed!
We are still awaiting any news about how we have fared in the "Britains Best Butcher" competition, but we will let you know as soon as we hear!
Bon Appetit
John & Andrew Green