From Harehills to Granada
Alan  Cuthbertson was born in Harehills, East Leeds. He was married at 19, and in partnership with his wife, Heather, started the family stationery business 'United Stationers'. During this time Alan served 4 years as an Officer in The Royal Airforce Reserves and became an accomplished aerobatics pilot. He now lives in Granada, Spain but loves returning to the UK to visit family and friends.
Fiestas and Siestas Miles Apart
Ever wondered how easy it would be to start new life in a different country?
Fiestas and Siestas Miles Apart is the humorous but true story of what happens when the Cuthbertson family decides to sell everything (including the family business), load the family car, and move from England to Spain.
As author Alan Cuthbertson and wife, Heather, begin their move, daughters, Stacey and Ashlie have other ideas and take off on their own adventure to Thailand, Australia, and New Zealand. The girls swim with sharks, skydive, bungee jump and spend some time working in a gold mine Their enthusiasm and naivety is shown in the emails and texts received by their parents, who themselves are finding Spanish life a very steep learning curve. Who knew fried sparrow was a delicacy? And Alan's first hunting trip is not a completely successful expedition, but a very funny one.
Eventually the Cuthbertson family find the house and village of their dreams, but this is just the beginning of their adventures in Spain…
During the initial twelve months Alan would update family and friends with emails telling them of the humorous things that were happening to them, I suppose today it would be called a blog. After a suggestion by a visiting friend these emails became the foundation for his first book, Fiestas and Siestas Miles Apart.
Clover House
How many rules would you break to fulfil a loved one's wishes?
After the success of his first venture into becoming an author Alan started on his second novel, Clover House. Clover House is a home run by the local council. It's residents are there because their parents, family or the community can no longer deal with their behaviour. Leo French has lived at Clover House for nearly 8 years after being rejected by an alcoholic mother. For Leo life was dull and mundane, that was until Julie Sykes arrived.
After uncovering Julie's secret, Leo uses his limited time and resources to make her wishes come true. At the time he had no idea where it would lead them. Theft, foreign travel and attempted murder was just the beginning.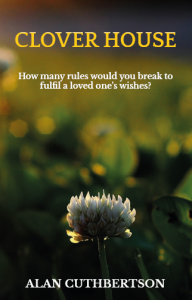 This book is for those that like a true romance with an unexpected twist. In fact Alan often throws down the challenge by saying "Clover House has 310 pages and 17 chapters. After finishing the 15th chapter… guess the ending." Nobody has guessed correctly yet.
For more information go to alancuthbertson.com or contact Alan Cuthbertson at info@alancuthbertson.com 'Fiestas and Siestas Miles Apart' and 'Clover House' are both available from amazon.co.uk in paperback and Kindle format.