Summer is a busy time for everyone in Spain but few are as busy as the fire fighters. As I write this I am sat on my terrace surrounded by fields of dry grass and olive trees. It hasn`t rained for five weeks, and none is expected for another two months, the whole of southern Spain is a tinder box.
As you can imagine it doesn't take very much, a discarded cigarette, the sun`s rays magnified through an abandoned bottle, or quite often the cause can be arson.
Some years ago, the BBC reported that a 33-year-old head of a Spanish firefighting unit was arrested for starting 15 fires in the Galicia region, unhappy about a promotion he didn't receive.
Over the last 12 months over 12,000 fires have been reported in Spain.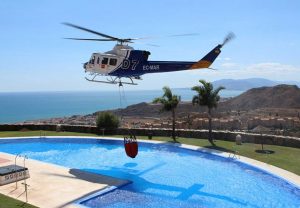 Back in 2012 I was renting an apartment in Marbella. Unable to sleep I got up and looked out of the window. I was a little perplexed when I saw the moon shining an ominous red but even more so when I looked to my left and noticed hundreds of birds leaving the mainland and flying out to sea… then the smell of smoke hit me.
I got dressed and went outside. Behind our apartment block, the hills that overlook Marbella, were a sea of fire. This was the worst fire ever to be seen in Southern Spain. It eventually spread from Marbella to Malaga, a distance of over 60km. Over 3,000 people had to be evacuated whilst the fire devastated the whole area, over 580 square miles. It destroyed hundreds of houses and hotels in its path.
Over 500 firefighters and soldiers along with 31 planes and helicopters were required to bring the fire under control. The water they scooped up and dropped had to be taken from any source including the sea, reservoirs and even swimming pools. Many animals were killed and several people were injured and unfortunately one person, a 78-year-old man, lost his life in the fire.
Sometime later the cause of the fire was attributed to a German national who had been burning garden waste.
Please don't forget, this could happen in East Leeds just as easily as over here, so remember…
Countryside safety code
A carelessly discarded cigarette in the countryside can lead to a huge fire, where the results to wildlife can be devastating.  
Our simple fire safety tips will help you to stay safe in the countryside and protect it for others to enjoy:  
do not discard cigarettes in the countryside; dispose of smoking materials properly and make sure they are completely extinguished 

clear away bottles, glasses and any broken glass to avoid them magnifying the sun and starting a fire 

always take extra care if using a barbecue  

only light fires or barbecues in designated areas using the facilities provided – if you are visiting the New Forest, view details of New Forest barbecue sites before you go

don't leave camp fires or barbecues unattended and extinguish them properly after you have finished using them 

talk to young people about the dangers of playing with and lighting fires 

report any information about illegal fire setting activities and those responsible (anonymously) to Crimestoppers on 0800 555 111