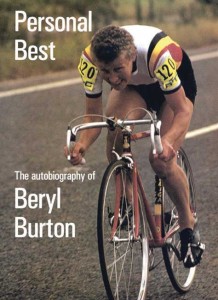 In the past few issues, I have endeavored to convey the achievements of some proud Yorkshire men. But what about the ladies? I hear you say. Well in this Olympic year, I'm proud to feature a couple of local sporting ladies made good.
As a cycling enthusiast, I followed the racing career of Beryl Burton MBE OBE, she was a racing cyclist of some repute and once described as one of Britains finest ever athletes.
She was born Beryl Charnock in Halton in 1937 although she later lived in Morley where she joined the Morley Cycling Club. Incredibly she suffered quite bad health as a child which included long stays in hospital due to rheumatic fever, which make her achievements as an adult all the more remarkable.
Beryl never really cycled competitively until she became an adult. Indeed it was her husband, Charlie who got her interested in it around 1955. Within a couple of years she won her first national medal and before the end of the decade she was competing on the international circuit. Beryl's cycling career spanned three decades, she was world champion five times in the early to mid sixties and was still in the medals in the early 70's.
At home she was virtually unbeatable, winning the British Best All Rounder Road Time Trials an incredible 25 consecutive years! The list of her medals and achievements would probably fill this page but maybe her most incredible was setting a new 12 hour time trial record of 277.5 miles, beating the male record at the time, incredible when you think about it.
In 1982 with her daughter Denise who also became an international cyclist, she set a British 10 mile record on a tandem. Sadly Beryl died in 1996 aged 58 but her memory lives on with a memorial garden in Morley and the Beryl Burton Cycle way between Harrogate and Knaresbrough in 2009 she was introduced into the British Cycling Hall of Fame.
Much of my younger days were spent at York Road baths where I used to go swimming with my friends. We used to chat with the attendant there who used to describe in hallowed tones the achievements of the Storey sisters, especially Doris.
She was a member of East Leeds Swimming Club and used to practice early in the morning before going to her job as a machinist at Burtons on Hudson Road. By the time she was 17 she had been selected to represent Britain at 200m breast stroke for the infamous 1936 Berlin Olympics. She qualified for the final after winning her heats but an unfortunate fall before the final resulted in an arm injury and despite an early lead she only managed a sixth place finish. But perhaps she will be better remembered in those games for refusing to stand when Hitler entered the arena, a brave move from a brave girl in defiance against a whole regime in it's own back yard.
However, in the pool she made up for her disappointment in the 1938 Empire Games in Sydney, where she brought home gold medals in the 220 yard breaststroke and also in the ladies relay. In the same year she won a silver medal in the 1938 European Championships and later also set a world record for the event. The second world war interrupted her career, however she was still good enough to finish second in the trials for the 1948 Olympics but was rejected by the selectors as by then she had a young family.
Doris truly was a local lass made good in a time when sports were dominated by more wealthy competitors who could afford the time off and travel. Always true to her roots, she later ran a fish and chip shop in East End Park with her husband, Norman Quarmby. Sadly she passed away in 2005 aged 85 but for many of my generation she will be remembered as a brave lady and a local heroine.