We first featured Alexandra Turner way back in issue eight and despite her young age, she has become a veteran of these pages as well as making an impact in her chosen sport Taekwondo.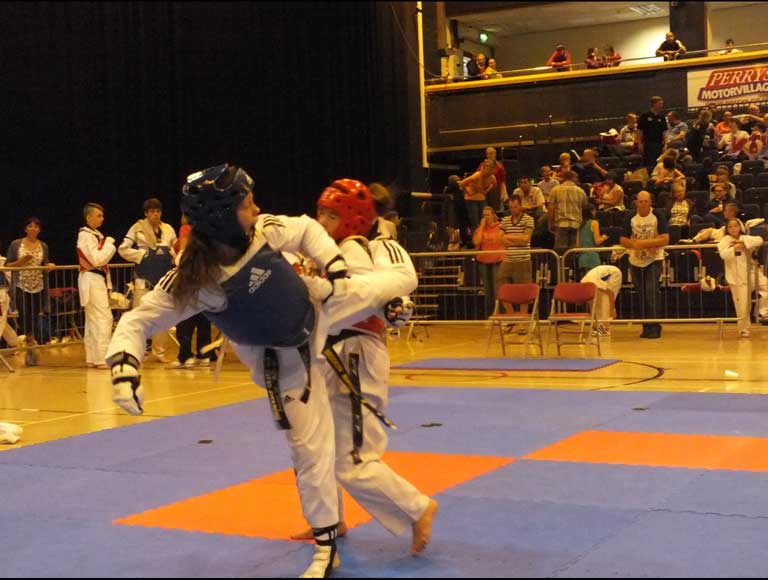 Formerly a pupil at Scholes Primary, Alex is now in Year 8 at Boston Spa School, which as a Sports Academy is perfect for her. 
She still travels to Doncaster to train with ex Olympic coach Master Gary Sykes at his Doncaster All Stars Taekwondo Club, although recently, she was selected for the Great Britain Cadet Development Squad after an intense day's assessment and observation on 7th August 2014 with the GB coaches.

So now, as well as Doncaster three times a week, she attends training camps in Manchester on weekends and during the
school holidays, where part of her training is taken by her hero Sarah Stevenson, MBE – Olympic, World and European Champion, who is the GB Taekwondo high performance coach for  the cadet development squad. (with Alex below left).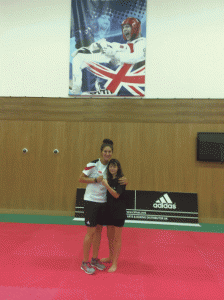 The development squad aim is to " Identify, recruit and develop athletes across all future Olympic weight categories who demonstrate potential to succeed at senior world and Olympic games". Only 30 – 35 of the top athletes in the country are recruited to each squad – Cadets, juniors and seniors, so just to be there is quite an achievement. As a result of this, Alex has already trained with the the GB Olympic squad, which has really given Alex the motivation (if any were needed) to represent Great Britain in international tournaments.
Next up for Alex is to defend her British Taekwondo National Championship title which she won last year. She has now moved up to cadet level, so will be up against more experienced opponents.
Alex remains determined to succeed in Taekwondo and being selected to join the GB Cadet Squad only fuels her ambition to be chosen to represent GB at the Olympic games in the future.
Alex said "I am delighted to be part of the GB Cadet team and I am proud to be there and look forward in representing my country at future international tournaments".