An Introduction to Frances Brody
Frances Brody is a Crossgates based writer who writes murder mysteries set in 1920's Yorkshire. Her fictional detective is Kate Shackleton, a First World War widow who lives in Leeds. Frances is just about to release her twelfth novel 'Death at the Seaside,' which is set in Whitby and will be published on Thursday 6 October and Frances will be introducing the book at Waterstones on Albion Street on the same evening at 7pm.
"I was brought up in Harehills and went to St. Augustines school. After leaving school I worked in various offices before I landed a job in Washington DC and ended up living in the USA for five years. It was a great experience but I'd never intended to stay there permanently. I came back and studied History and English at York University before going into teaching but I was always writing, whether it was stories for radio or stage plays."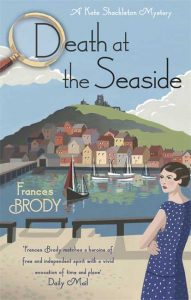 Her stage plays have been toured by several theatre companies and produced at Manchester Library Theatre, the Gate and Nottingham Playhouse, and Jehad was nominated for a Time Out Award. Frances has written four sagas, all set in Leeds and covering the period 1914 to the 1930s. These were first published under her own name Frances McNeil but have been re-issued this year as Frances Brody books. They're a mixture of local history, fact and fiction and one of them mentions the explosion at Barnbow during the World War One.
"The first saga was based on my mother Julia's stories of growing up on Bread Street off York Road. I self-published this novel to coincide with Julia's hundredth birthday. It was later expanded and published commercially as 'Somewhere Behind the Morning' but this year resumed its original title, 'Sisters on Bread Street'. Two more sagas followed: 'Sixpence in Her Shoe' and 'Halfpenny Dreams."
Her latest book 'Death at the Seaside' is the eighth novel in the Kate Shackleton series. Frances began writing them in 2009 and has written one a year since then.
"The idea for 1920's crime books came gradually, the last of the saga's has a bank robbery and murder and it was an organic slide into crime writing. I like the 1920's era, I was influenced by a lady I knew when I was a child who we called Auntie Amy and she regaled me with stories of her brother who she said was present at the opening of Tutankhamun's tomb and she had a scarf which as a wide eyed child I was convinced actually came from the tomb."
Kate Shackleton might be Leeds based but her detective work has taken her all over Yorkshire – earlier books are set in Harrogate and Bolton Abbey and this time she goes to Whitby.
"One of the pleasures of writing is planning and looking about the locations. I stayed in an old hotel in Whitby called Bagdale Hall which I used in the book. Kate drives a Jowett car. These motors were made in Bradford and the Jowett boasts the oldest car club in the world. I got in touch with them when I was planning a change of car for her."
Frances introduces Kate Shackleton's latest adventure 'Death at the Seaside' on
Thursday October 6th at 7.00pm at
Waterstones, 93-97 Albion St. LS1 5JS.
It's free but please reserve your space at the ground floor till, call 0113 2444588 or
www.waterstones.com/events
Readers might like to know about the book group that meets on the first Wednesday of the month at Cross Gates Library, 6pm.