As the nights get lighter and the mercury slowly rises, Arepas de Mama are throwing their doors open on an evening and introducing tapas.
 "It was our original plan," explains owner Angelica "but we held off for a while and started with just Saturdays, it's proved popular and we'll now be opening the tapas bar on Friday evenings as well."
It might not happen every Saturday but it's not unusual to see Angelica giving salsa lessons to customers after a few too many Rioja's.
"Why not? Good food and salsa dancing, it's a way of life in Venezuela and the Canaries! And of course a glass of wine. We're not licensed as yet, so it's bring your own bottle and it doesn't have to be Spanish."
In case you can't make it on a weekend, Angelica is also introducing salsa classes throughout the week.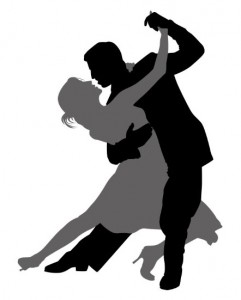 "If we can get the numbers up we hope to develop it into Flamenco dancing as well. The cafe is small but it's big enough, we just put a few tables to one side and MAGIA we have a dance floor.   Just about every bar in Caracas does it this way.   'Salsa' is Spanish for 'sauce,' usually hot and spicy, which is a good description for a dance that is energetic and passionate.The basic steps are easy to learn and you'll salsa your way across the dance floor before you know it."
And for those of us trying to work out what they are all singing about, she's also introducing 'Spanish Hour' every Wednesday between 4-5 pm.
"It's Spanish for English speakers, from the minute you walk through the door, English is forbidden and we'll be taking informal lessons."
Arepas de Mama is deliberately Venezuelen 'shabby chic' but there's nothing shabby about the new tapas menu. A mixture of a few staples and a few specials it's difficult to have the same meal twice. Sharing kitchen duties with Angelica, Maria originally comes from Colombia so as well as Tenerife and Venezuela, there's a hint of Cali in there too.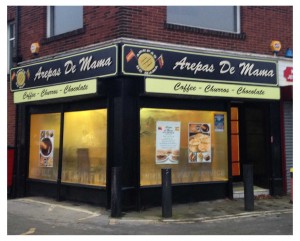 They've mixed the staple dishes up, Empanadas originates from Venezuela,a smaller version of Arepas, made from corn flower with strips of beef or pork. Tuna or Serrano ham croquettes are typical Spanish and there's a Spanish Tortilla, an omelette style dish stuffed with potato, onion and chorizo, different than the Mexican version we're all familiar with. No tapas meal is complete without prawns and the Tenerife King Prawns have a spicy twist to them. If it's still a bit on the cold side, Ropa Vieja is a Spanish casserole which goes down well with Canarian salted potatoes with red and green Mojo sauce. The less regular dishes could be anything from Spanish Meatballs, Carne Fiesta, (meat feast) and Paella.
Disfrute de su comida   ¿ Quieres bailar?
Arepas de Mama
1 Terminus Parade
Station Road
Leeds, LS15 5JZ
Mon-Thurs 11-5 Fri-Sat 11-9
0113 260 50 40