On the 16th September 2017 at 12pm,
Barwick in Elmet will host its 9th annual beer Festival at Barwick in Elmet Village Hall. This year's festival promises to be the biggest and best yet.
We have an unprecedented 20 firkins (1440 pints) of cask conditioned ales from Yorkshire micro Breweries, 2 Yorkshire cask ciders, 10 different wines including Proseccos and a very large selection of traditional bottled Ciders,
bottled continental lagers and craft beers. We have 700 foot marquee for our music and we even have a bigger purpose built bar so everyone can get served quicker.
For the 2nd year running we will be providing our own catering, to help soak up some of the fine Yorkshire ale on offer. We will also be serving up fine Yorkshire fayre in the form of award winning "pork pie and peas" supplied by our main sponsor and good friends at Wilsons Butchers in Crossgates.
In our mission to make the festival into a music and ale event, we have live music from the excellent "Welsh T Band"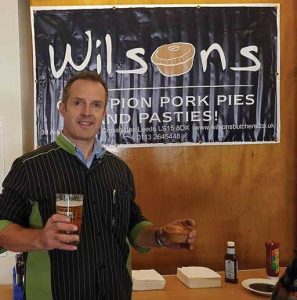 www.facebook.com/TheWelshTBand an American style blues band and the "Roosters" www.facebook.com/TheRoosters who perform a selection of covers to suit a variety of musical tastes.
We also have a young local singer called Luke Flear www.facebook.com/
lukeflearmusic who will be performing in our opening slot. Luke and his band Territory hail from Barwick in Elmet and have recently played to rapturous applause in several local venues, and we think he will be an excellent addition to this year's proceedings.
Entry to the festival, will be £7.50. For which those attending shall receive a commemorative glass, souvenir programme and a pint of beer, or 2 halves should you prefer.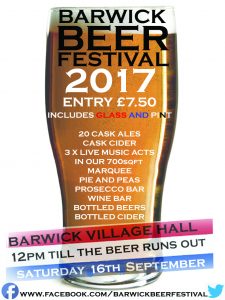 All, drinks will be sold at around the £3 or £3.50 per drink and is customary at such events will be paid for using beer tokens which can be purchased at the event.
The proceeds from the festival will go to supporting the Barwick in Elmet Maypole Trust to raise money for the next triennial Maypole Festival which will be held on Spring Bank Holiday Monday 2020.
www.facebook.com/barwickbeerfestival/