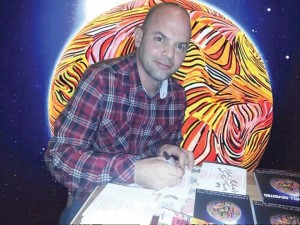 Former Bridewell Taxis singer Mick Roberts has had a busy past few months, in which he's released a five album box set containing all his Bridewell Taxis stuff as well as his lesser known material with the Bridewells and Home.
"It's been a mad time everything that could have gone wrong went wrong, right down to the sleeve art work disappearing and having to be hastily redesigned. But we got there in the end although if we'd done this interview a few months ago the content would have been a little different. The original idea with the five album boxset was (personally) to put the music to bed and move on to different things. As I've got more engrossed in it I've realised how much I still want to be involved with music in one form or another."
If truth be known, the timing of the release was forced upon Mick, due to the fact the quality of  the master tapes for the original recordings was rapidly diminishing.
"It was a case of now or never regarding digitally remastering the original stuff and I have to say I'm really pleased with how it sounds now, it's added a new dimension. I'd like to thank Tim Hartley because he's the guy who really was instrumental in getting the money together through the Kickstarter project and making me really believe it was possible after so many false starts. I've been trying to put this together since our last interview four years or so ago."
Unfortunately there's no chance of any live performances due to Micks ongoing struggle with tinnitus, his hearing has got progressively worse over the last few years.
"Unless something like a stem cell cure comes up, that's it for me as far as live performance is concerned.  I went back in the studio with the original band to record two tracks for this, Burning the Badness and Serpent and the Sword which were the last things we worked on in the original band and as much as it was great to be back with the lads again, it was a real struggle, in fact it was a nightmare, I can't hear myself singing and have no idea what I sound like."
Mick hopes to follow up the box set with a DVD box set of live recordings, which goes right back to the early stuff called Precious Times, right up to the last comeback gig at Josephs Well in Leeds. There's also Manchester Hacienda, the legendary Leeds Town Hall gig.  And wheras a few months ago anything new from Mick himself might have been dismissed out of hand, now it's a different story.
"I wanted this 5 album boxset to come out as much as anything to show there was a bit more to my songwriting than the Bridewell Taxis. But even after the second band (confusingly called the Bridewells)  and my last band Home, I've continued to write songs as if I were still in a band and over the last few years I've recorded the vocals for 26 tracks, so once I find the right people to put the music on them there's          probably a couple more albums worth of material there. I must admit I've got a lot of renewed enthusiasm and the Kickstarter project and early sales of the boxset prove there's still an audience out there although some people are accusing me of flogging a dead horse! Even though I can't perform live or record, I would love to keep going as a song writer."
Also in the pipeline is a compilation of bands either covering the old stuff or recording stuff Mick has written for them.
"It's the next best thing, it's like torture coming up with songs but not been able to get them out there. Bands such as Uprising and Aftermath have covered and rerecorded some of the Bridewells songs and Kelly Dickson has recorded a few tracks as well. I'm a much better song writer than I was twenty odd years ago and I still feel like I've unfinished business…I haven't written that song yet but I'll get there."
Mick video interview  Part One  &   PartTwo
Available at Crash,  Jumbo and Relics.
check out