I was born in Leeds in 1986 and have fond memories of a strong community spirit on my street and the kids calling on each other to play football in the cul de sac or hide and seek, which was eventually banned after one of the more miserable residents didn't take too kindly to me hiding in his garage. Probably fair enough.
I went to Ralph Thoresby School, then Notre   Dame Sixth form, where with the help of an 'International Student' fake ID, I started to enjoy Leeds' excellent nightlife. Our regular haunt was a tiny club called 'Bassment' in the Merrion Centre, which had a particularly lax attitude to underage drinking. Its sticky floors, dubious fashion styles (often from me – I was a badly-dressed teen), watered down sprits and eclectic playlists were a key part of my formative years.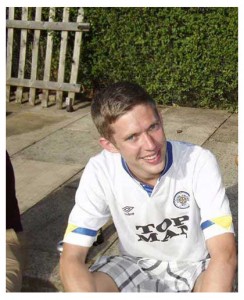 After graduating from Lancaster University in 2009, I moved back to my parent's house, and spent two enjoyable years as a care worker for St Anne's community services.
In 2011, my girlfriend and I were travelling around South East Asia with every intention of it only being for three months before returning to Leeds. Whilst we were in Thailand, a job opportunity came up for her in Hong Kong. I remember her doing a dreaded Skype interview in the room of a spectacularly horrible, insect-infested hostel in Bangkok, while I watched on, wearing a questionable vest and drinking a Singha beer. She somehow landed the job, I got a job teaching English to adults and we made the fairly spontaneous decision to go and live in Hong Kong indefinitely.
I'd first flirted with the idea of writing a book a few years ago, when I had a very half-hearted attempt at a novel. Unfortunately at the time, my life wasn't particularly interesting and I didn't really have anything to say. I think I wrote about three chapters that were absolutely awful then knocked it on the head, didn't tell anyone about it and didn't think about it again until one afternoon in Hong Kong.
I was going for a jog (which in itself is a real rarity), when my thought process went off on a slightly bizarre tangent. One of my regular students at the school was a policeman who I got along well with and I considered: If I got arrested and then I saw him at the police station, would he help me out or would he pretend not to know me? (Just to clarify, I wasn't planning on getting arrested in Hong Kong.) After thinking about the scenario for a little while, I thought that there could be a decent plot for a novel and decided to give my short-lived writing career another crack.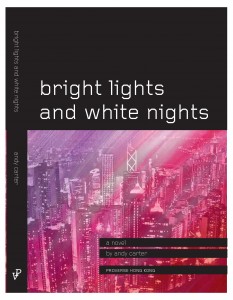 The lifestyle I had in Hong Kong was congruent to writing a book. I was working odd shifts that completely clashed with my girlfriend's so I had a lot of time alone in a minescule flat. Rather than starting a league on 'Football Manager' with Harrogate Town, I decided to attempt to do something productive and started on 'Bright Lights and White Nights.'
I had a lot of fun writing the book. Although it was sometimes frustrating to run out of ideas or realize that two parts of the plot are completely conflicting and wholesale changes are needed, it was an enjoyable process. I finished the first draft in just over a year and began the arduous process of trying to find an agent or a publisher.
We left Hong Kong in June last year, going on a short break to the Philippines before returning home (some three years later than initially planned!) One lazy afternoon, lounging round the pool, I got an email from Proverse saying that they liked the book and wanted to publish it, which was a wonderful way to finish my time in Asia and the cue for an irresponsible amount of Filipino whisky.
I'm now back in Leeds and after a long time away, it is lovely to be home. If all goes to plan, the release date is going to be April 9th in Hong Kong, so will probably be late April over here. I'm hoping that people from Leeds will relate to, and enjoy the book as there are lots of nods to the city throughout. I am going to do my book launch at the Wardrobe bar which will hopefully be a great night.
You can email Andy at andyc1421@hotmail.co.uk or follow him on Twitter @andyc1421.