Last year Chapel FM won a Pro Yorkshire award from the Royal Institute for Chartered Surveyors. They recognised that we had saved a beautiful old chapel from demolition and created something new. Creating a great building is one thing, making sure people feel like coming into it is another!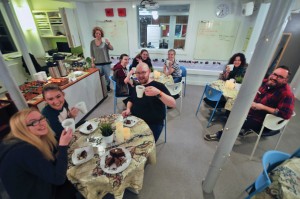 This year we have been short-listed for a different type of award—for being the Best Place in Leeds for Children and Young People—as part of the Child-friendly Leeds Awards 2016. Now I'm not saying we are going to win—we're up against Tropical World and a couple of others. But it feels a real achievement to be up there on the shortlist having only been open a year. And one of the brilliant things about the awards is that we are there on the shortlist because three of the young people who come along to Chapel FM took the time to nominate us and explain why they think we deserve an award.
Those young people have all got involved with our music, broadcasting and creative writing activities—and a lot of people of all ages come along to Chapel FM to have a go at something creative themselves, sometimes something they've never done before. But you can also just pop along to Chapel FM every Thursday to our Community Cafe which is open between 10am and 4pm for cake and a cuppa. And I'm not just talking any cake! One of our volunteers, Enid, has been baking regularly—so a big thanks to her for helping to make Chapel FM an award-winning friendly place in Leeds.
Adrian Sinclair
Creative Director