Tune in to ELFM on 87.9FM
29th July to 6th August 2017
In the first week of August, East Leeds FM will be back on the air live from Chapel FM Arts Centre for our summer broadcast festival. You can listen on the internet as usual at www.chapelfm.co.uk but also tune your radio to 87.9FM. Our team of volunteer broadcasters comes from all parts of the East Leeds community and range in age from 10 years old to…well let's just say..to our senior broadcasters. You'll be able to listen to a complete range of programming from local news and features, spoken word, live music, radio drama…and all with our wonderfully eclectic mix of music (all broadcasters choose their own tracks to play—no station playlists at ELFM!)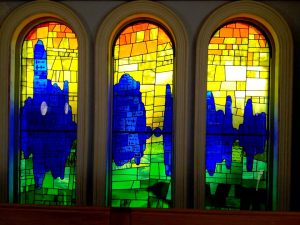 ELFM was created back in 2003 with a group of 13 year old pupils at John Smeaton. The first-ever jingle that the young people came up with is now emblazoned on the front of Chapel FM: "From the people to the people" and that spirit runs through all our work. That first ELFM broadcast was transmitted from a studio in the back of Tescos (when I say a studio it was actually a storage cupboard Tescos had kindly cleared out for us!). We never thought that some fourteen years later we would be based in a beautiful Arts Centre in the heart of Seacroft with two state-of-the-art studios and a stunning radio theatre created from the old Methodist Chapel that we managed to save from demolition and re-develop.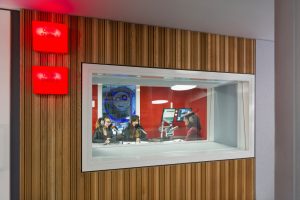 Over 18,000 local people have made their own radio programmes with us since 2003 and that number is increasing with the fantastic facilities we have now. Just this week we had our regular Tuesday and Friday night live broadcasts in the evenings and in the daytime 200 Year 5 students from local primary schools were involved in a big debating project which ended up in a full day of live broadcasts and 30 young hearing-impaired children spent a day at Chapel FM as a culmination of their year-long music and singing project.
Whilst having an arts centre gives us the opportunity to offer a broad range of creative activities, getting people to make their own radio programmes is still at the heart of our work. And we are always looking for new people to come and join in. If you are an adult you can come along and join our very friendly Broadcast and Tech groups and go along to our free 'Have a Go' and 'Find Your Frequency' training in the daytime or evening (whichever suits you best). And for teenagers there's our popular Next Generation Broadcasting group and, during the broadcast itself in the first week of the summer holidays, we are offering an intensive 5-day course. These courses are offered free with the support of Inner and Outer East Community Committees.
So please get in touch if you would like to get involved and on Saturday July 29th don't forget to twist your dial right down low to 87.9FM and listen in to a week of brilliant community radio.
"From the people to the people"
As always just get in touch with Centre Manager, Fuzzy Jones, for more information. Call on 0113 22 55 944, email info@chapelfm.co.uk or just pop in to Chapel FM.