Chapel FM Film Screening
I Daniel Blake
Thursday 23rd March 2017 at 12.30pm and 7.30pm
Most people know that radio is at the heart of a lot of the things we do at Chapel FM. But, as an Arts Centre, we are able to do many things in the beautiful old chapel, including screening films.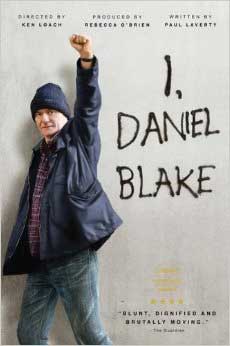 In the past couple of years we have screened a wide variety of movies, shorts, animations, documentaries—all kinds of films. We've been part of both the Leeds International Film Festival and the Young Film Festival and even done a couple of overnight movie marathons for young people. We are also happy to respond to requests to screen films and so were interested when two groupings of people came to us to see if we would screen Ken Loach's BAFTA Award winning film, I Daniel Blake. Both the local Labour party and Ruth Patrick from the University of Liverpool asked if they could organise community screenings at Chapel FM. Ruth has spent the last five years researching the impact of welfare reform on people living in East Leeds, and is about to publish a book 'For whose benefit: the everyday realities of welfare reform.'
We are pleased to be able to announce free screenings of the film on Thursday 23rd March with panel discussions after each screening including local MP Richard Burgon, Ruth Patrick and local people from East Leeds who have direct experience of welfare reform.
The film tells the story of Daniel Blake, who has worked as a joiner most of his life, and needs help from the State for the first time following an illness. He meets a single mother and her children and together they try to survive….
"Ken Loach crafts a Cathy Come Home for the 21st century that resonates long after you leave the cinema."
"What makes the pain of this film bearable is Daniel's unquenchable decency, courage and perseverance."
Please come along to the screenings. There is no charge although we would be happy if you want to make a pay-what-you-can donation. You can reserve yourself a ticket at chapelfm.eventbrite.com, call the Centre, or just turn up on the day.
And if you have ideas for films you would like us to screen in the future, or any other ideas, please do not hesitate to come and have a chat.
Adrian Sinclair
Creative Director
You can always get in touch with Centre Manager, Fuzzy Jones for more information about Chapel FM. Call on 0113 22 55 944, email info@chapelfm.co.uk or just pop in…
Chapel FM, Old Seacroft Chapel, York Road, Leeds LS14 6JB Tel: 0113 22 55 944
News on events, training and broadcasts at www.chapelfm.co.uk