The 2015 Chapel FM Musicathon
3pm Sat 12th December to 3pm Sun 13th December
24 hours of music; all live, all local, non-stop
It was way back in 2009 when we first came across Seacroft Methodist Chapel. Barbara and Frank were at a meeting and talked about how they were trying to find someone to take over their old Chapel before it disintegrated.
When we went to have a look—it was definitely a bit worse for wear (hadn't been used for about 10 years) and it had a little tree growing out of the roof!
Of course we loved the idea of saving the building and being able to create something new out of it for the community—but where to start? The first thing we ever did there was a little bit on the ambitious side—a musicathon lasting 24 hours with live music played throughout by about 300 different musicians and singers.
The Methodist congregation took a little bit of convincing (mainly that we weren't completely bonkers!) but it was a great success and really kick-started the whole process that eventually became Chapel FM. Barbara was there for most of the 24 hours, serving tea and making everybody.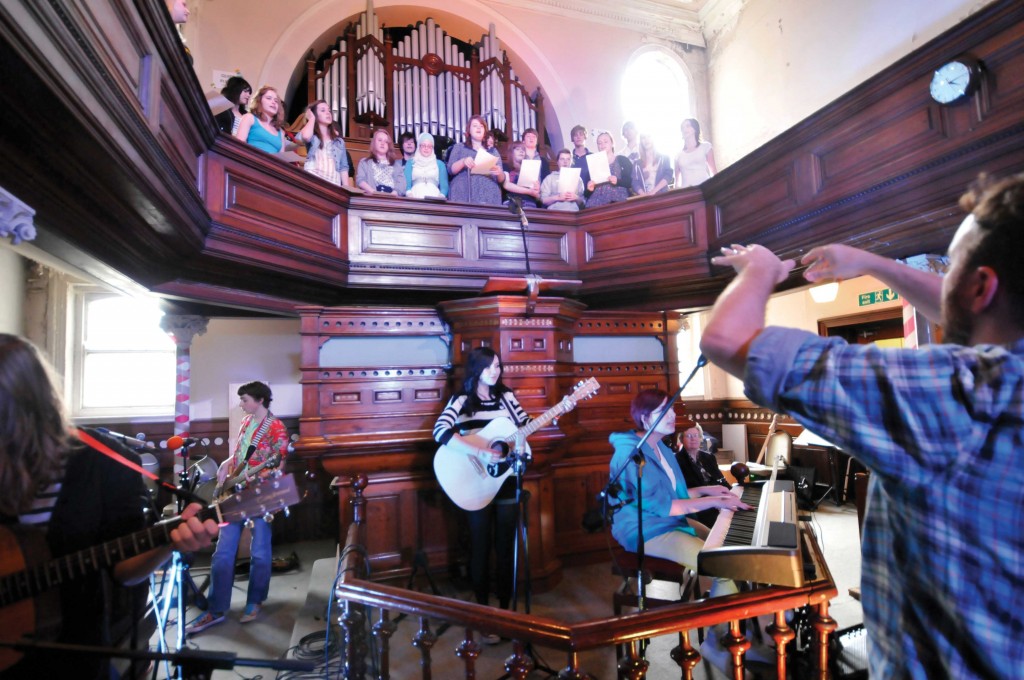 welcome. Frank brought his choir to take part (indeed Concordia are back performing in Chapel FM on December 6th) and he said one of the most encouraging things at the end of it all: "You've brought life back to this church." The musicians were all pretty well behaved (!) and they just loved the place and the acoustic…really there was no turning back.
With the shiny new building opening in 2014, last year was the first musicathon in Chapel FM itself. It was great (and remarkably easy)—no packing everything away at the end of the 24 hours; just a quick tidy and switch the lights out! So we are only too happy to organise the 6th musicathon in December 2015, timed to coincide with the lovely Seacroft Winter Gala. Get in touch if you would like to be part of this year's Musicathon; come and play, sing, help out on tech, front-of-house or just come along to watch and listen.
It's going to be emotional!
Adrian Sinclair, Creative Director, Chapel FM.
http://www.elfm.co.uk/