In 2012 I came across this radio station called ELFM (now Chapel FM) and really didn't know what to expect as a loud but anxious 12 year old girl who never really put herself out there. Four years later I've done so many things —writing songs and performing them on live radio; interviewing; acting in performances; even going camping and achieving my Bronze and Silver Arts Award— things I never thought a radio station would offer me.
It's been a huge part of my younger teenage years, helping my confidence and allowing me to meet incredible people who I now consider my really good friends. I'm 17 now and am part of the Chapel FM Graduates group, which allows me to have more of a decision-making role in Chapel FM events, and I have also arranged to have work experience in a few months time.
Interviewing on the radio has to be one of my proudest achievements. It's something I never thought I would ever get the chance to do and it's pretty cool telling people that you've been on the radio.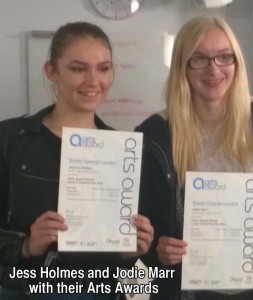 It's extra things you do outside the education system like at Chapel FM that can really make a difference on things like getting into college or even a job. And if you get your Arts Award then you get a certificate that proves what you have achieved (they certainly were very impressed when I brought out my certificates at my college interview!) You demonstrate a range of skills—everything from taking part to showing leadership—and it looks amazing on CVs and personal statements. If you have a passion in the arts, these awards are really something to consider.
Last year I was involved with the No Bystanders festival that Chapel FM organised. A few of us wrote some songs for an EP, which raised money for the Ann MaGuire Arts Education Fund (in memory of the teacher who was killed). Having fun whilst doing something great for a good cause is not something that happens regularly but Chapel FM has always offered these type of things.
If you're a teenager interested in getting involved in Chapel FM, then get in touch with Fuzzy Jones (Centre Manager) and ask about signing up for this year's Summer projects.
I consider Chapel FM as my happy place—doing thing I enjoy, with my friends, which benefit my future. I am forever thankful that it exists.
Jess Holmes (17)