Chapel FM—Singing and more, for Old and Young
Open Voices
A weekly singing group open to everyone.
No experience necessary
Every Thursday 10.30-11.45pm
The Open Voices singing group meets every Thursday morning at Chapel FM.
It is extremely relaxed, friendly and joyful. You don't need to read music or have any previous experience of being in a singing group before. The songs we sing are decided by the people who come…anything from old time classics to modern pop songs and much more!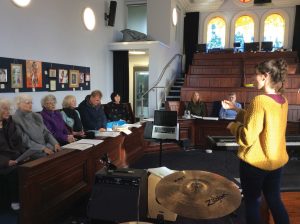 Open Voices is led by Fran Wyburn (see pic below) —a singer and songwriter with over a decade of experience leading singing programmes in the community. Her enthusiasm and love for music is infectious and she'll have you singing your hearts out in no time at all!
There is also an opportunity to make new friends at Open Voices, and there's always tea and cake before and after the session in the Community Café at Chapel FM.
As with all our work at Chapel FM, we want to make Open Voices accessible to everyone, so we just ask people to donate what they can each week towards the costs of the session.
"I've never sung in a group before and I was nervous to start, but now Open Voices is one of the highlights of my week!"
We have some fab free training for young people from East Leeds this summer!
Next Generation Choir
Tuesdays 5-7pm (starts 2nd May) Age 11-18
LOVE SINGING? Want to sing with other people? Join our brand new weekly singing group. No previous experience  necessary.
Broadcast Group
Thursdays 5-7pm (starts 08 June) Age 11-18
Join our weekly summer broadcast group and work towards producing creative programmes for our LIVE FM Broadcast Sat 29 July – Sun 6 Aug
Trailer Made
Mon 03-Fri 14 July
Times TBC Age 16-18
Come and make the Chapel FM promo video – we need actors, musicians, videographers, or folk who just want to get involved in an intense, fun creative project.
You can always get in touch with Centre Manager, Fuzzy Jones for more information about Chapel FM. Call on 0113 22 55 944, email info@chapelfm.co.uk or just pop in…
Chapel FM, Old Seacroft Chapel, York Road, Leeds LS14 6JB Tel: 0113 22 55 944
News on events, training and broadcasts at www.chapelfm.co.uk
Adrian Sinclair
Creative Director