We will be celebrating our first anniversary at Chapel FM on October 9th—a year since we opened the first-ever arts venue in East Leeds. It's been a whirlwind year and by October we will have welcomed over 9000 visitors to Chapel FM. Not a bad start!
As I write this we are in the middle of our summer-school season. We've run our own summer training project for 30 young people with two weeks broadcasting on FM as part of our NO BYSTANDERS broadcast festival. We are now working with 80 pupils who are on a special transition summer school as they move from local primary schools to East Leeds Academy this September; and we are also doing a special project with young people who are supported by the Visual Impairment team at Temple Moor High School.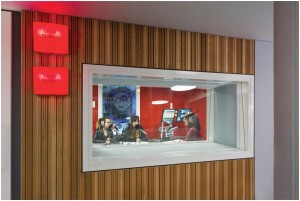 We hope there has been something for everyone at Chapel FM over the last year, from screening the Lego movie for kids to our Open Voices community singing for older people. But at the heart of our work in East Leeds over the past 15 years has been to work with young people, particularly teenagers.
In our first year at Chapel FM, 136 local teenagers have been involved in our intensive courses, volunteering for an average of 28 hours each on our broadcasting, music, journalism and writing courses. We offer opportunities to all young people who want to come and join us; and it's great to see them turn up every week prepared to work hard, put a lot of effort in, and have some fun.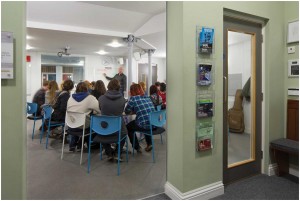 Zoe Carty, who has just finished at David Young Community Academy, has been volunteering with us for four years: "Chapel FM is a place where you can try new things, relax, and learn something new every day with a whole bunch of very different, supportive people."
Some of our young volunteers are just about to get their Bronze and Silver Arts Awards to recognise the work that they have put in at Chapel FM (Arts Awards are nationally recognised qualifications—the arts equivalent of the Duke of Edinburgh Awards). Some of them will even be turning the tables and training the city council's senior managers in interview techniques on a training day this autumn.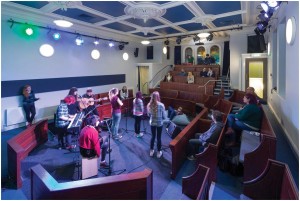 We will be recruiting for our new training courses in half term this autumn. So if you are a teenager or know young people who might be interested, just get in touch and come along to one of our taster sessions in half term.
Adrian Sinclair
Creative Director
Chapel FM, Old Seacroft Chapel, York Road, Leeds LS14 6JB Tel: 0113 22 55 944
News on events, training and broadcasts at www.chapelfm.co.uk
or email info@chapelfm.co.uk