Chapel FM Arts Centre—We need your help!
On the allotment and in the kitchen.
There are lots of opportunities to get involved at Chapel FM—from playing live music in our radio theatre to becoming a radio broadcaster. But some of the people who don't often get noticed are the people who come along on a voluntary basis to make the Centre as friendly as welcoming as possible.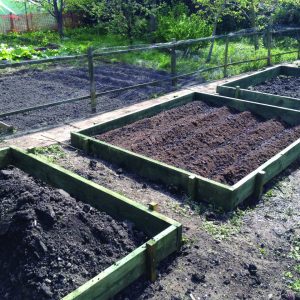 You'll often see Enid serving up home-made cakes on a Thursday morning at our Community Café, Stuart and Tracy might welcome you to one of our Open Mic nights, or you can eat some hot food before one of our Friday Night Live gigs cooked by Linda. We are looking to extend our hospitality offer and our friendly "front-of-house" group are meeting to plan new events and ideas, including a picnic and rounders match on the village green as part of the Great Get Together on Sunday 18th June (inspired by the late Jo Cox MP). If you are interested in coming along to volunteer some of your time and being part of a friendly bunch of people, then please get in touch.
Another new group that has started up at Chapel FM recently are known as the Allotmentalists! In the winter, having been on the waiting list for two years, we finally got offered one of the allotments at the back of Chapel FM. There has been a lot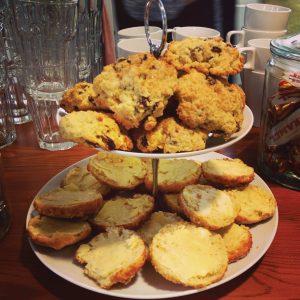 of digging and weeding going on from a committed group of volunteers! We have got most of the plot clear and Kev has been busy creating raised beds for us with the wood that Ryan has scrounged. Now the last frosts have passed (we hope!) we will be out planting our seedlings and trying to keep the slugs and birds away. A big thank you to all the Brooklands allotmenteers who have been very welcoming to us newbie gardeners, always encouraging and prepared to answer our naïve questions. Again if you are interested in helping us out on the allotment, or you are able to donate some tools, seeds, seedlings, compost, manure, fruit bushes…or even some paving slabs for our planned crazy-paving pathways…please get in touch.
And yes—the plan is to link up the two groups and we hope to be offering some food made with veggies grown on the allotment before you know it!
You can always get in touch with Centre Manager, Fuzzy Jones for more information about the front-of-house group, the allotmentalists or any of the other events or training opportunities at Chapel FM. Call on 0113 22 55 944, email info@chapelfm.co.uk or just pop in…
Chapel FM, Old Seacroft Chapel, York Road, Leeds LS14 6JB Tel: 0113 22 55 944
News on events, training and broadcasts at www.chapelfm.co.uk