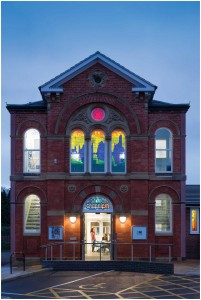 NO BYSTANDERS 
A Broadcast Festival at Chapel FM 19 July – 2 August
Old Seacroft Chapel, York Road, Leeds LS14 6JB
Young broadcasters from across East Leeds will take over the airwaves at Chapel FM for two weeks this summer in the No Bystanders Broadcast Festival (19 July – 2 August). Through a fantastic programme of live music, discussion, film and theatre they will be encouraging listeners to get actively involved in some of the big issues which affect communities today: Sexuality, mental health, bullying, refugees and asylum seekers will all come up for discussion. And, for the first time during the Festival, these events will be broadcast live on FM (87.7FM) from 22 July to 2 August in addition to live streaming through Chapel FM's website www.chapelfm.co.uk.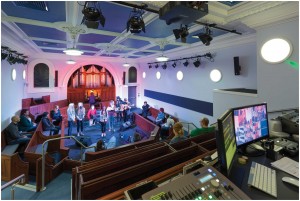 Adrian Sinclair, from Heads Together Productions, the arts organisation behind Chapel FM says: "Over 7 thousand people or all ages and backgrounds have got involved with Chapel FM since we opened last October. No Bystanders Broadcast Festival is a great way to top off an outstanding year. We literally start and end the Festival with pride –  opening with a screening of Steven Beresford's 2014 hit film comedy drama 'Pride' and ending with our first live broadcast as part of Leeds Pride on Sunday 2 August. What's particularly fantastic about No Bystanders is the whole programme has been devised by our young broadcasters who will also present and produce the entire two week programme."
Issac Love (12), Corpus Christi Catholic College, who got involved with Chapel FM because of his early interest in radio, says "No Bystanders allows us to play an important part in taking action on issues where people really need support.
Zoe Cartey (18), David Young Community Academy added: "Chapel FM is a place where you can try new things, relax, and learn something new every day with a whole bunch of very different, supportive people. We want our No Bystanders programme to help people who are facing difficult situations by raising awareness of tough issues through music, discussion, theatre and film and help give something back to our community."
The Festival kicks off with Chapel FM's Associate Bands' programme of original new songs, specially written and recorded on No Bystanders themes on Friday Night Live@Chapel FM on 24 July (All proceeds to Anne Maguire Arts Education Fund).
Love the Words, featuring local writers of all ages from Chapel FM, is an evening of exciting new writing about the No Bystanders themes and a brand new radio play 'I Knew Johnny, Yeah' on Wednesday 22 July at 7.30pm. 
For full programme details visit: http://www.elfm.co.uk/news/no-bystanders-broadcast-festival-on-87-7fm/
To get involved listen at www.chapelfm.co.uk throughout the Festival or on 87.7FM from 22 July – 2 August and get tickets for events through www.chapelfm.eventbrite.co.uk
or
contact Chapel FM on tel: 0113 225 594
No Bystanders is supported by Leeds City Council Breeze and Leeds Inspired.