We opened Chapel FM in the former Seacroft Methodist Chapel back at the beginning of October last year. It's a lovely place, we hope you will agree. Certainly the feedback we get from visitors is overwhelmingly positive—and we have had 6,400 people visit since we opened. To top it off, Chapel FM just been awarded Overall Winner for Community Benefit at the prestigious Pro Yorkshire Awards.
So what is Chapel FM and what's in it for people living in East Leeds?
Back in 2003 East Leeds FM was started by a group of teenagers from John Smeaton High School. It was going to be a one-off broadcast lasting just 10 days, but it just kept going! And Chapel FM was originally conceived as a new base with proper facilities for ELFM. Indeed since October 27,000 listeners have tuned in to our programmes both online and on FM.
But, as our slogan says—It's radio…but so much more. With Chapel FM we've tried to create something that East Leeds has never had before, an arts centre, and one that is there for local people. We think it is great that people from all parts of Leeds are coming to Seacroft for their arts entertainment, but, at the same time, we know that over 60% of our visitors in the first six months come from LS14 and LS15 postcodes, and that's just how we want it!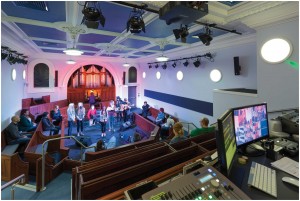 So, If you haven't been down to Chapel FM yet, how could we tempt you? Well you are welcome to come down and have a look round any afternoon Tuesday to Friday, and on Wednesdays we have our Community Cafe days between 10 and 4 where there is always tea, coffee and cake available and someone to talk about the range of opportunities on offer.
If you want to get involved with any of our radio groups, you can come along to our 'Have a Go' group on the first Thursday of the month, and for young people we run regular taster sessions in holiday times. We also do day-time courses for people who aren't working or need some additional support to get involved.
We have lots of evening events when you can come down and be part of the studio audience in the lovely Radio Theatre (and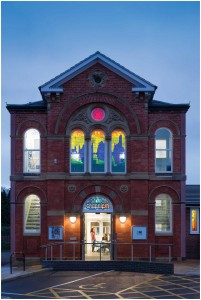 it's all Pay What You Can). And if you work with a local group who would like to use Chapel FM or work with us to put on an event here, then please get in touch. That's exactly what we are doing with the lovely people at ELM—watch this space for a special East Leeds Magazine Presents…night at Chapel FM.
You can definitely pop in and see us on Saturday 4th July when we will be having Open House (and Open Studios) during the Seacroft Gala. We are even running a whole festival between July 19th and August 2nd that celebrates people who do get involved— the NO BYSTANDERS Festival.
A Councillor came down a few weeks ago and was talking to some of our young volunteers (26% of our visitors since we opened have been under 19). One of the girls was talking about the stresses of GCSEs and preparing for exams. But why do you still come down here, the Councillor asked.
"That's easy" she said "Chapel FM is my happy place".
Chapel FM, Old Seacroft Chapel, York Road, Leeds LS14 6JB Tel: 0113 22 55 944
News on events, training and broadcasts at www.chapelfm.co.uk or email info@chapelfm.co.uk