We are the newest chess club in Leeds and the only one based in East Leeds. We have just completed our 3rd season. At first we struggled but since then we have gone from strength to strength with the creation of a second 5-player team in the main league last season and aiming for a 3rd team this coming season.
The vision for the club is to encourage new players to the game without initial pressure to win straight away. Thus our 'B' Team has consistently been made up of players who have low chess grades but who are among our keenest members. Most had never been a member of a chess club before. On the other hand our 'A' Team is now attracting stronger players and this helped the team to gain promotion to Division 2 for the coming season.
The result is that we can now offer a chess-playing experience suitable for a wide range of players, from novice to hardened veteran.
Our greatest achievement to date was winning the Leeds Mini League this season which is a 3-player handicap competition. We fielded two teams. Our top team were clear winners and our second team came joint 2nd.
How are we different from other chess clubs?
There's a very good club atmosphere with the stronger players interacting with the new and weaker players. We try to keep costs down – no club or attendance fees. But if you are going to play regularly in our teams we do expect you to become a member of the English Chess Federation (which is not expensive).
We're also tech savvy with our excellent website (www.limewoodchess.club) and our Twitter page (twitter.com/LimewoodChess).
One of our best and most distinctive features is the match report prepared after each league game. This is compiled by Club Captain Paul May and includes frank commentaries from members on how their particular games went. This is real member involvement!
The report also includes links to members' games of interest and puzzles (of the "What is the best next move?" variety) from that round of matches, some of which make it onto our Twitter page. The report is initially emailed to members and then goes on the club website. Another feature is our annual Blitz Championship where grading differences are evened out by a time handicap imposed on the stronger players.
One of our new-to-chess members, Steve Hodgson, appears near the top of the Yorkshire Chess Association's list of Most Improved Players. Two years ago his Yorkshire grade was 14 (which is low!). This year he was a member of our trophy-winnng 3-player Mini League team.
Why join a chess club?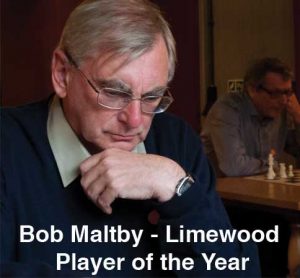 There is a terrific boom in chess being played online against the computer.
That is great. But playing chess over-the-board
against a real human is a different experience and far more satisfying – especially when you win. And you meet real people, from this and other clubs.
As you gain confidence you may also choose to widen your experience by entering some of the many weekend chess congresses that take place in Yorkshire and beyond.
Here in Limewood & Scarcroft we will give you a warm welcome, whether you are a veteran player or totally new to club chess.
The Limewood & Scarcroft Chess Club plays its home matches at the Fox & Grapes, A64 York Road, LS15 4NJ.
Contact:
phone Paul May on 07429 219 691
email Paul: limewoodchessclub@yahoo.co.uk
Twitter: #LimewoodChess
Matches are played on Wednesdays starting at 7.00pm