Way back in 1987 a few like minded cricketers at Colton Cricket Club got together and sowed the seeds for what became Colton Crown Green Bowling club. Inspired by the late and fondly remembered Gordon Johnson, work on the green took two years to get it up to match standard.
Club secretary Dave Roberts explains;
"Let's say they were all of a certain age and running about on the cricket field was getting a bit much so they opted for something a little more sedate. They took over a grass tennis court which had fallen into disrepair so apart from the digging and lifting to create the crown, the rest of the area was fairly flat."
For the uninitiated the 'crown' is a raised centre and the 'green' is the playing surface which has a ditch around the edge. Due to the crown, the green slopes on all sides towards the ditch, which makes the game more challenging than if it was just a flat green. Although the green was laid under the instruction of the Yorkshire Crown Green Association, there are no hard and fast rules for the size of the green or for the size of the crown. Indeed Colton Crown Green now famously boasts one of the highest crowns in Yorkshire and although it's difficult to verify, maybe the whole of England as down South the majority prefer their bowls like their beer; flat.
Although Crown Green Bowling is played nationally, its heartland is in the North. However it's possible that Colton Bowling Club along with many others could die out over the next few years if more people don't get involved.
"It is seen as an older persons sport and I would say it has many health benefits for older people, lots of fresh air, walking, stretching and great camaraderie but it can also be very competitive and many county players are from the younger end. I would urge anyone who has never played before to get involved or at least give it a try, it's a game of skill but we cater for all standards."
In their first season, Colton entered two leagues, the Barkston Ash Saturday League and the Crossgates Evening League. Now they have ten teams in seven different leagues, on various afternoons and evenings. Oh, and all the teams are mixed although there are some ladies only leagues.
"There's no restrictions on age or ability, you can have a team with an age range of eight to eighty eight, there are junior leagues and we'd love to field a junior team, although I'd settle for a few players under retirement age!"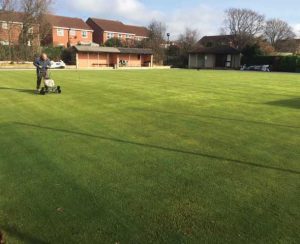 Dave clearly has a love for the game but he's not one of those 'win at all costs' fanatics.
"It's nice to win, of course it is but Colton is a great social club to be involved in as well as the bowling. We're not a club who are all about winning, although we've had our fair share of success, it's more about getting out and enjoying the game and the social side which goes alongside it. Many a happy, summer afternoon has melted away watching the cricket team after a game of bowls."
And if that sounds quintessentially English, well it probably is. On match days during the summer when the bowling and cricket teams are playing at home, Colton Club resembles a village green on carnival day and even though the original village has been swallowed up, it retains a sense of community which goes back to 1872 when the Village Institute formed a cricket club and the glorious sound of leather on willow was heard for the first time.
The club moved to its present site on School Lane in the early 1920's. The land was acquired from Lord Halifax under the provision that as long as sport is played there it cannot be developed upon. Colton currently has cricket, football and tennis clubs as well as the bowls.
"We are seeking new members for the bowling club, we've lots of teams to keep going at all standards and some new players would be most welcome. There are evening and weekend leagues as well as afternoons, the season runs from April to September. The green is just about ready and anyone joining now could have a few weeks
practising before joining one of the teams and bowling competitively."
Anyone interested in giving Crown Green Bowling a shot, call Dave at 0782 437 5793
or email d-roberts21@virginmedia.com