From Prisons to Vettreino
David McCormack is a retired painter and decorator, the mainstay of his occupation was going up and down the country painting prisons!
He recently retired and is now banged up in his spare room doing a different sort of painting, as the oil painting on the wall at Bistro Mokka will testify.
"I was a painter and decorator for forty five years although I had dabbled with the oils when I was younger. My Mum used to breed Afghan Hounds and I did a few paintings for her in my early twenties. She showed other breeders and suddenly I had quite a few commissions. The only problem was my business as a painter and decorator was taking off and taking me in different directions and financially it was much more viable long term. Around the same time I had some paintings exhibited at Leeds Art Gallery and it was a shame not to pursue it but paying the bills came first."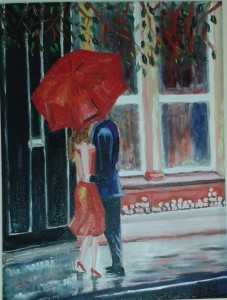 On retirement, he picked up the brushes and pallets again but not without a few nerves.
"I did a couple of paintings for my daughter and realised I still could paint, although I needed to hone my skills a little. I'm my own biggest critic but my biggest fear is quite simply I might paint a picture for someone and they might not like it."
Although recently David did find the confidence to paint Cafe/Bistro Mokka recently.*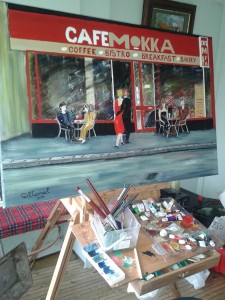 "I've become firm friends with Gerti and Paulina over the past year or so. When they hung the picture of Abbots which was the original cafe there, it got me thinking and after a quick chat with them, my creative juices began to flow and the end result is this. It took me about four weeks to paint but the winter cold meant it's taken just as long to dry."
As well as the family stuff, David has been working on 'sort of copies' of Jack Vettriano, a Scottish artist who made his name painting picture postcards. Recently he's also copied a couple of Constable's, where he's just taken a small aspect, enlarged it and put his own twist on it. David is self taught although he still maintains his biggest influence was his old art teacher Mr.Finch.
"I still see him about as he lives in the area. He was a massive help and influence at school and I always stop and have a chat with him. Next time I see him I'll take him to show him the 'Mokka' painting and buy him a coffee as a thank you!"
*they forgot to tell him about the name change!