New Years Revolution
This year Day and Night Pharmacy is blasting into the new year. We've just acquired the flat above to create more room. Seeing how we keep getting busier and busier (thank you), perhaps we can start offering free massage services upstairs while you wait for your prescription. I guess professional restraints will not allow us to get that close but we will continue to personalise and manage  customer relationships intimately.
We still get a lot of praise like 'the best thing that's happened in Cross Gates in the last few years' (cringe, cringe) but then the NHS surveys that we are contractually obliged to conduct are not always representative of the status quo because the clients we get to fill the surveys tend to be the ones who love us to bits and excludes those who may have shown their heels. So we will not rest on our laurels, unless you are a
Usain Bolt we will not be beaten to the counter by a customer and we will not leave the counter until you do. 'Is anyone serving?' is a taboo question here.
We will endeavour to tailor our approaches to different individuals: A customer wanting to be treated like a friend shall not be made to feel like just a part to an exchange- some kind of one-night-stand – and the one looking for a fleeting acquaintance or even a slave-master relationship off-put by an overzealous attempt to build a relationship.
The slave-master relations can be nerve-wrecking but they are still welcome. The stance is; 'Listen to me, anticipate my needs, satisfy my very demand, don't ask questions and don't explain anything, 'You said you would sort my repeat prescriptions so come on deliver now, Mr-Fast-and-Friendly.'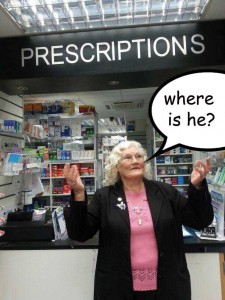 Of course we run for all our masters bumping into each other like ants and, like ants, although the activities appear chaotic to an observer they are in fact an orchestra of the highest order with a medicinal Pavarotti as conductor.
Which brings me to another point: I've been involved on the floor for too many hours each week to the extent that I haven't given myself time to look at ourselves like an outsider and have a sober mind to allow innovative ways of how we can better deliver our pharmacy services. It's a 100-hour per week pharmacy but the NHS' idea was not to have the same pharmacist for 100 hours every week.
Besides, the wife moans and I don't wish to give her an excuse for hiring a 6-pack ripped locum cover for my absence at home. I therefore shall try to reduce my hours on the counter- touch wood- and usher more hours to the locum pharmacists.
Naturally, I am aware of the inherent risk in this wishful change. We're all too familiar with the sinking feeling of getting to one's surgery only to be seen to by the locum doctor. It's so deflating you come out worse than you felt going in, yet the usual GP and the locum are similarly qualified. It's just human nature. The prescription you get from the locum doctor is probably more likely to fail even before it's taken because it has to overcome a negative psychological barrier. It shall thus not surprise me if a few of my favourite over 70 patients grumble, 'I put on all this make-up to see my page 3 pharmacist, why ain't he here?' Similarly I don't see my daughter taking to a locum dad.
I will try to hire familiar locum faces like our brilliant relief manager Mohammed, although I should hasten to warn you that it's getting harder and harder to see his face since he's decided to grow more beard than is enough to prove his masculinity.