I am pleased to announce that Day & Night Pharmacy has signed  contracts offered to pharmacies by local NHS Clinical Commissioning Groups to provide free (NHS- funded) head lice treatment and advice. This will allow local GPs to concentrate on more complex afflictions.   There is a catch though; one has to catch a louse and bring it to the pharmacy as evidence of  infestation. Yes, this is a prerequisite for treatment under the scheme. One may approach the pharmacy for initial advice whereupon a free nit comb may be provided to help detect the presence of lice and to extract a sample. The sample may then be taped to a piece of paper.
The commissioners' insistence on presentation of evidence is obviously to ensure that only infested heads are treated otherwise everyone with an itchy scalp and a bit of dandruff would join the queue making it easy for lice to build resistance against treatment. Besides, I'm thinking perhaps not many pharmacists will be up for examination of heads to establish the diagnosis let alone the time to conduct it. The nit nurse days are well and truly Roman.
Despite its good intentions, the one louse sample per head policy does not always go down well. I remember the constant aggro I was exposed to while participating in a similar scheme in the valleys just outside Bradford, 12 years ago. Many an irate mother would burst into the pharmacy with 2-3 children without the requisite samples and demand, '' Here…. Here are the children. Can't you see the nits. You catch the lice. I'm not doing it!''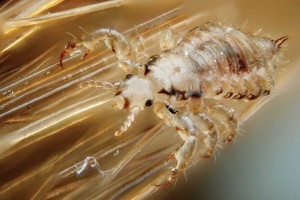 While we are at it, remember nits (eggs/ egg shells) are an undeniable track record of past or current infestations. Lice don't wonder far from the scalp. They feed and lay their eggs down there. So a nit glued to the hair an inch away from the scalp means, more or less, that the guests were there or have been there for as long as it took for that hair to grow to that length!
Unlike the pharmacy I worked in 12 years ago,  we have 2 private consultation cubicles at  Day & Night, confidentiality and discretion is  guaranteed. Just ask to speak to the pharmacist in private. I can't see anyone flying in, waving the evidence like a Chinese hand fan… That could be distressing to some or exciting to other punters in the chemist…. But our Day & Night team will remain ambivalent; there is never a dull moment here anyway.
Actually, there is nothing to fear. Lice do not hop or fly… and they won't be crawling onto me either. A curious phenomenon is that lice seem to display an aversion for sub-Saharan African hair. This could well be anecdote but my personal experience of head lice in black Southern Africans as a growing child or as an adult and professional is next to nothing. As a child the closest I came to such creatures (probably body lice) was when my father spent a few days in police detention for having the wrong political opinion. On return, he immediately razor-shaved his hair and God knows whatever else. I was too young to know, I was probably preoccupied with poking my bogey-filled nostrils with my finger only to lick it thereafter. As a professional we'd occasionally grab a mortar and pestle to prepare a gamma benzene shampoo (now obsolete) for our white fellow citizens, invariably 'to treat my horse'.
Anyway, the nearest to a plausible explanation for head lice's low prevalence in blacks is that the cross-sectional shape of the hair is such that lice cannot cling on well. I tend to believe that in the carpet that is my Bantu hair, lice would not need to cling on to anything; rather these blood-sucking celebrities will be gasping for breath and whimpering, '' Please someone get me out of here''.
Dispel the myths. Vanquish the stigma. Stifle the words lice and nits: Call it pediculosis. Catch it. Show it. Kill it. Make its eradication a Sunday chore. Tell your contacts. Inform the school. Let's break the cycle of fear, stigma and shyness that rewards our enemy with the blood of our children. Come on East Leeds!
Yours Medicinally, Abel Kubare,  
Superintendent Pharmacist Day & Night Pharmacy