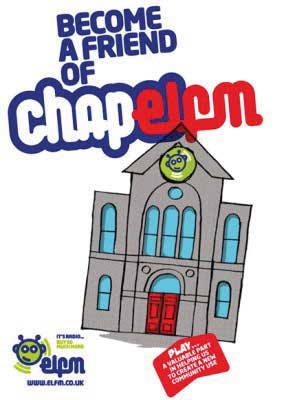 East Leeds FM has come a long way since humble beginnings, broadcasting from a back office in Seacroft Tesco. 10 years on and the community radio station is gearing up for the next exciting chapter in its history as it prepares to move into its new home, Chapel FM. You may have seen the scaffolding up around the Old Methodist Chapel (off York Road and a stones throw from Seacroft Green)—that is soon to become the first-ever dedicated arts venue in East Leeds.
ELFM do have a history with the Chapel, successful events were held there including 24-hour musicathons, marathons and even a literature festival! These events paved the way for the hugely ambitious renovation project, which will be completed by the summer. With help from funders including Leeds City Council, Arts Council England, The Caird Bardon Community Programme, DAC Beachcroft Solicitors, Jimbo's Fund, The Monument Trust, The Scurrah Wainwright Charity, The Tudor Trust and The WREN Landfill Communities Fund, ELFM and parent company 'Heads Together Productions' have been able to turn this dream into a reality and save a beautiful building from destruction.
Chapel FM will comprise 2 studios, and a performance area perfect for bands, poets, storytellers, performance artists, choirs and anything else you could dream up. All will be kitted out with state-of-the-art recording and filming equipment making this the ideal venue for local aspiring artists of all ages. It's going to be ultra-modern, but it will still be a beautiful old Chapel; the pews and ornate roof decoration stay, as does the original organ, which will be fully restored in time for the grand opening. Currently, there are very few places in East Leeds that cater for our musicians, writers and performers; just imagine a thriving community of artists able to showcase their talents on their own doorstep; the possibilities are literally endless!
The building phase is due for completion in mid-April but there's still quite a bit of work to do! Some 11km of cabling has been crammed into the walls and cavities of the small but beautifully formed Chapel and this all needs connecting to the various mixing desks, cameras and speakers. We also need to move out of our current space on Ramshead Hill and make sure everything is in place and more importantly, that everything works as we expect it to! We are hoping to put on a weeks worth of opening nights in October to ensure all the funders, local residents and friends of the Chapel will be among the first to experience Chapel FM in it's full glory…And that's where you come in. We have had lots of ideas about what we can do in the Chapel, but we want to be a real resource for the community too. If you have ideas of your own or for a group you are involved with then please get in touch. Or just pop down and have a look round the place. Every Thursday from May onwards we will be doing an Open House so you can come and have a nosy—so just get in touch and get involved!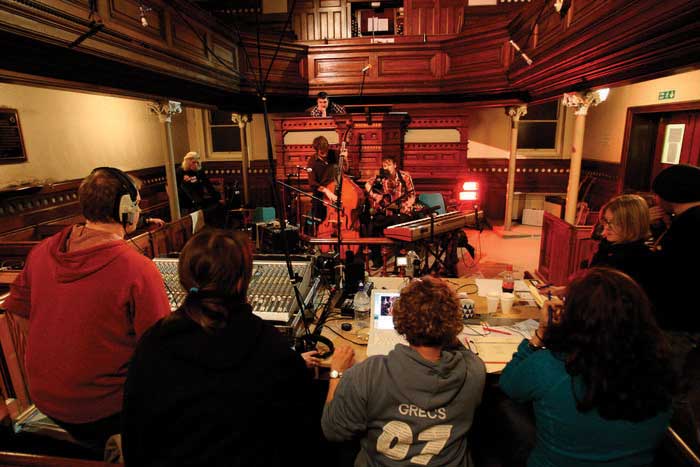 The work of East Leeds FM is incredibly varied and covers everything from music to writing, performing and journalism.  Since it started broadcasting in 2003, we have worked with over 8000 people aged between 3 and 87 and currently broadcast to approximately 30,000 people per year. If you are interested in being involved with any of our projects or activities, or if you have any suggestions for content/material; then please contact Sam Taylor for more information – (sam@headstogether.org – 07813 853140)
"When I heard they wanted to build an ELFM base in Seacroft I was over the moon. Anyone who lives in Seacroft (me included) would agree there is not enough to do round here. When it happens I will be there for every event!" James Lewis Moran: Seacroft Resident and Friend of Chapel FM