You mustn't shout it out loud,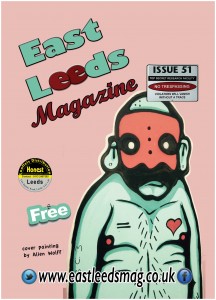 Don't create a scene,
It's no good being proud
That only feeds the scheme,
Break down the wall,
Live it up it's their time to fall,
Anarchy is coming in,
If you know we Live To Win
Fine lyrics from Motorhead…Live to Win…
Now us Yorkshire folk aren't ones to crow about achievement or success but it's been quite a month for this area, Yorkshire county champions again, the Rhino's winning the challenge cup, Josh Warrington showing his world class credentials and er Leeds United won in Milton Keynes! Not bad for a county where every body hates each other © Shiny Forehead Cameron.
Our own Sam Smith continues to climb the professional rankings and Chapel FM try to get Leeds going forward as European City of Culture. (p26) Talking of culture Mike Winnard has a chat at the Tetley's Garden party about art in the city.
A few up and coming events, Barwick Beer Festival at the Village Hall on 17th October 12.00pm until the bar runs dry, check the web site for more info.
www.barwickbeerfestival.co.uk
If you fancy a coffee and some biscuits before you go, Scholes in Bloom are having a coffee morning in order to raise funds at Scholes Village Hall, between 10am – 12noon.
Fans of classical music might be interested in a couple of young artists recitals at Lotherton Hall, Aberford, Leeds LS25 3EB.
Michael Foyle (violin) and Maksim Stsura (piano) Sunday 25th October 2.00pm. Hannah Black (flute) and Bethan Semmens (harp) Sunday 29 November 2.00 pm. Contact: wendy.shuttleworth@leeds.gov.uk or ring 0113 378 2966, web site www.leeds.gov.uk/lothertonhall