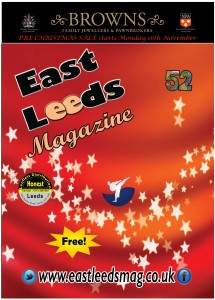 <- Video…Artist and musician Mik Artistik live at the Radio Theatre Chapel FM.
Meanwhile, Issue 52 of East Leeds Magazine is out now
Ooh, my head is spinnin'
You got me in your spell,
Way down where the music plays
Way down like a tidal wave
Way down where the fires blaze
Way down, down, way, way on down
And way down is where you are if Alexandra Turner has just kicked you in the head. Yes… she's back have a read on page 39. Elvis Presley seems to be everywhere at the moment, we were surprised to learn Elvis only left the USA once, when he was in the army in Germany. Ian Martin's been to Germany many times, read about his passion for FC St. Pauli on page 42.
This issue, we've a couple of things for the ladies, two new clothes boutiques have opened and also Jenny Mason-Briggs tells us about the Alan Sugar backed Tropic skincare & make up range, see page 45. Normal service is resumed as everyone knows this mag likes a good tear-up, so Matt Radford tells us about his new shop Fight Co and Lee Murtagh's next show on Nov 29th promises to be a cracker!
Some of you may have heard of the planned expansion of Colton which has spawned an action group Colton Unite visit their web site www.coltonunite.co.uk
And while we are on our soapbox, check out www.change.org/p/leeds-city-council-stop-the-closure-of-the-green-residential-home, with regards to the closure of the Green Residential Home in Seacroft.