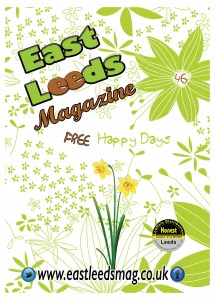 Sunday, Monday, Happy Days,
Tuesday, Wednesday, Happy Days,
Thursday, Friday, Happy Days,
The weekend comes, my cycle hums
Ready to race to you
Happy Days, nothing to do with Fonzie or Ralph Malph, it's just getting lighter every day, the skies are slowly turning fifty shades of blue, we've had some lovely sunsets and the snowdrops and daffodils are showing.
Possibly we should have chosen Happy Birthday as this issues song. We are six this month and the longest established local magazine in the area. Despite being asked numerous times, we only cover one area, the area we were brought up in as kids and currently live in now.
Andrew Carter moved to Hong Kong and wrote a book while he was there, he missed Leeds so much he couldn't resist loads of little nods to our fair city,
Good luck to Kobe Christopher in his latest Muay Thai Boxing fight and also good luck to Bethelhem's Sam Smith and Sophie Varley who both have up and coming title fights on 29th March at Pryzm Night Club, if you don't fancy a tear up try a Salsa dance class at Arepas de Mama. I jiggle therefore I am!
John & Ali