Cases of separation and divorce surge in January. The theory being that people 'get through Christmas and make a fresh start in the New Year'.  Most people will have put children and family first over the celebratory period but come January, many are faced with the reality  of a tough period ahead.
Gabbie Clasper, Head of Family Law at Emsleys Solicitors offers her advice on how best to move forward in the New Year…
It can be bewildering for those experiencing   separation and divorce for the first time. The emotional support of friends and family is vital, but at some stage most people need some formal advice. But who do you turn to? Separation is an intensely private matter and often people don't want to visit a local solicitor. Many put off making that initial enquiry for fear of an  enormous legal bill.
To alleviate some of the stress, Emsleys has launched www.understandingdivorce.co.uk which gives a wealth of free advice.  If your circumstances are straightforward the site has a download to help you divorce without a solicitor.  It can also help you decide if you need more legal advice, what to do next and how costs can be managed.
It always helps to try and maintain good relations but the nature of a separation means that conflict can arise. If things start to get out of hand, consider mediation, collaborative law or arbitration, all of which a solicitor can advise on.
If you need a solicitor, it is important to choose one that is Law Society-accredited and ideally a member of Resolution – a body of lawyers who conduct cases in a child-focused way.
If you are unsure about instructing a solicitor or just want some initial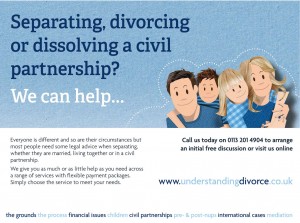 information, a first appointment with Emsleys is free of charge and there is no commitment.
Just call 0113 201 4900 to chat through your options.