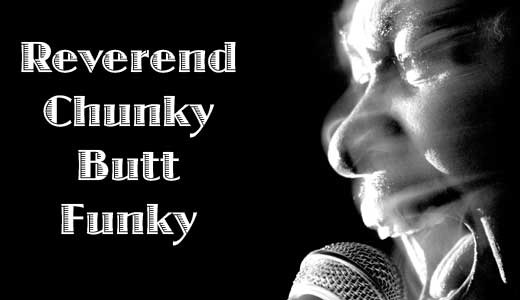 Interview with Cleve Freckleton aka "Funky Butt Chunky' January 2011.
With all musicians it's a reasonable question to ask, how did you get into all this? We asked Cleve Freckleton (aka Reverend Chunky) and got a history lesson of black immigration and the Southern Bible Belts for our trouble. Confused? Read on…
"My parents came from Jamaica in the early fifties alongside many others. Really the only thing they had in common with England was the language. The weather, the culture…everything was different. So it was only natural they looked inwards. The Pentecostal Church became almost like a private club, it became their crutch, their support, their social life. Everything revolved round the church. I grew up in this environment, the first music I heard was gospel. We didn't have a TV so family days were spent round the piano, it became natural for me to sing. From these
gospel roots I heard the likes of Aretha Franklin & Etta James, the Church viewed them as mavericks but I was fascinated.
Gospel Music's twin brother is the blues and both of these genres were reaching out from the churches into the mainstream in America. We were a little behind here, true enough we had reggae but it was frowned upon as the music of the rastafarian, which was viewed as a bit of an outsiders religion.
We went back to live  in Jamaica between 1973 & 1976. I have some lovely memories which I'll always cherish, playing cricket with mum and dad in the yard, using grapefruit and   oranges that had ripened and fallen off the tree as the balls, playing guitar and piano in church, going to Dunns River Falls, riding a mule, my first girlfriend (I was only 11) and I came twelth in a national spelling bee competition!
 We came back to England and football replaced the cricket, I still have nightmares of  playing in goal against Foxwood School and coming up against Terry Connor who went on to play for Leeds.  Needless to say he helped himself to a hatful of goals. I was rubbish to say the least but then I was a bit of a roly poly boy.
At the age of 24, I was drawn closer to the church and trained to be a Pentecostal Minister and in 1988 I took a post for five years as Minister for Music in the Southern Belt of America. I was involved in Ministerial duties which included choirs in Georgia, Florida, California. I preached in Alabamha and in New Orleans it was a fantastic five years.  I came back in '93 and entered a crossroads of what to do with my life.
One day I was in the launderette & I met a guy with a guitar. We got talking and ended up jamming together. Principally I'd been a church musician then all of a sudden I was playing music that crossed over, everything from Howling Wolf to James Brown. I realised I wanted to be more than a church musician.
We formed the Bluebirds and our first gig was playing the blues at the Eagle Tavern.
We played regularly at Shears Yard in the Calls & the Town and Country club. Both these places were an education, I got to know lot's of musicians and learned to play lots of different styles, it just opened my eyes and made anything possible from a musical perspective. We were on the bill at Cork Jazz Festival and I thought Y'know, I'm enjoying this, it's great  been a full time musician."
All this was the green shoots that grew into Reverend Chunky Butt Funky and the gospel music still influences their sound to this day.  In 2002 they were approached by Leeds City Council to perform in Durban, South Africa with whom the city has a civil twinning agreement. The experience left an indelible mark on the band and  they've returned twice by special request.  They  really are one band you just have to see live to  understand the impact that they have on the crowd. People testify to be moved to tears or spiritually uplifted by the "Chunky"  experience.  But you'd better be quick.
"We've been together for 12 years now and I'm  thinking it's time to branch out and do other things. I'm taking a choir in Leeds 14 and have been going round schools forming choirs and  producing c.d.'s. Choirs are often associated with churches but despite  my back ground the choirs I'm involved in are all about singing. We don't do auditions and everyone is welcome.
You should never under estimate the power of a choir- people working together, united in one voice and harmony, individually the members of a choir might not have the skills but collectively, the sky's the limit.
Last summer the band played Limetree Festival and I brought the 'Voices of the Day' choir on.  I swear they even upstaged my own band." Late last year, I made a CD with Delius Special School in Bradford, we included everyone, the office staff, the bus drivers and the dinner ladies. It brought the whole school together.
This is what I want to do in East Leeds. I'm frustrated at the moment, the cuts are going to hit education hard but I don't think we should be taking it out on the kids for the economic collapse,  we owe our kids every opportunity we can possibly give them to express their natural selves."
'Here at ELM, we really hope Cleve can expand his Voices of the Day Choir so East Leeds can sing a song, sing it loud, sing it strong and..
Sing it like we mean it,  Oh Happy Days!'