Get Cooking and take home a taste of Asia.
Would you like to learn how to cook simply flavoursome dishes for yourself, friends or family?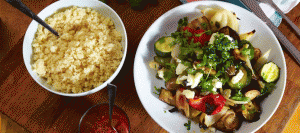 Increasing in popularity, Get Cooking! is a newly established Community Interest Company that runs accessible cooking courses designed to provide the skills and knowledge required to create beautifully simple dishes. 
The founder, Emily Carey has been running a series of accessible courses to improve the confidence and independence of people with cognitive impairments and other disabilities. Building on their success Emily has designed a new course with an Asian influence and it is being opened up to everyone so that you too can benefit from her passion for teaching others how to cook great food.
Starting in September Get Cooking's new course has been designed to teach Asian inspired dishes. By providing simple  substitutes and replacing some of those hard to get ingredients with accessible everyday ones, these delicious dishes can easily be recreated at home.
Get cooking courses will provide you  with the opportunity to work in a clean, modern, state of the art kitchen at Leeds East Academy and take home your own culinary creation to enjoy.
You are invited to join Emily on Wed 3rd September at 6pm and attend a free taster class where you can meet others and learn how to cook some inspirational dishes in a fun and friendly environment.
To register your interest in the free taster class or for more information about Get Cooking! courses you can visit our website www.get-cooking.org.uk or email emilycarey@get-cooking.org.uk. Mobile: 07595510039