Fiat 500 & Minis
Two of the most iconic cars on the road today are the Fiat 500 and the Mini. Both have a well known shape that is recognised even by people who are not interested in cars. Interestingly both manufactures have dramatically expanded the range of both cars, while ensuring they retain their stylish core identity.
The Fiat 500 was launched in 1957 as a cheap and practical town car with the basic shape and style we know today. In 1959 when the Mini was launched all the models were offered with the same basic shape.
But both cars models have been expanded and improved,so there are now 6 different Fiat 500 models and 7 different Mini models. Within each range there are, of course, many other choices of colour, interior trim and other extras. So the choice is enormous, even confusing!
But there is a comparison with Christian churches which can also be confusing! There are Roman Catholic, Baptist, Methodist, Anglian, Quakers, Evangelicals and various versions of them plus others too numerous to list.
Can they all be right? Is God involved in all of them? Why is there not one true church? All interesting questions and understandable. But here's another thought, is your image of Christianity rooted and static in the past? Just as the Fiat 500 and Mini of today are very different to the original models launched back in the 1950's, so much has changed in many of the churches of today.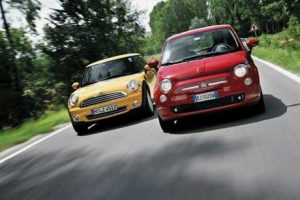 Christianity is also not static and God increases our understanding as the years go by. Today many churches understand that Christianity is not about following a set of rules, but about having a relationship with God. God already knows each of us individually but do we know God? If your concept of God is rooted in the past, maybe from school RE lessons, or Sunday school or being forced to attend church by your parents, perhaps it's time to update your thinking. The way to begin is to start by praying, ask God to reveal himself to you, ask God those questions about which church is right for you?
Christianity is not like cars which are regularly updated and improved. The basic truths remain constant but our understanding of them grows and improves over time, has yours?