Rubik's Cube
Do you remember the Rubik's Cube craze of many years ago? They are still around today but no longer the "must have" they once were. Some people could do them in a matter of minutes but I always seemed to struggle to get all the colours in the right place. No matter how I twisted and turned some of the colours always ended up in the wrong place.
Usually I had to get one of my children to sort out the mess I made and get all the different colours in the right place on each of the six faces of the cube.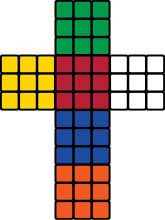 Do you sometimes feel like that about life? No matter how hard you try something always seems to be in the wrong place for you, maybe physically, emotionally or spiritually! Perhaps since the Brexit vote you feel your world has shifted whichever way you voted, that something is out of place.
Christians also suffer from the ups and downs of life, from the feeling that sometimes the colours are in the wrong place, but they have some special knowledge and promises that reassure them that it does not matter. Why, because they are promised that God, in the person of Jesus Christ, has already guaranteed that all the colours on their life's Rubik Cube will be put in the right  place for them. Christians can relax knowing that in or out of the EU, under a government of any political persuasion, in whatever physical, emotional or spiritual situation they find themselves in, God is in charge of their lives and futures.
Would you like to have that confidence and reassurance?
Whatever your current situation, however mixed up the colours of your life are, why not pray for help and guidance. Don't feel you have to come to church to pray for help. Pray about your problems, ask God to show you he exists, that He is real. If then, at some point in the future, you feel the need to come to church that's great, you will be welcome. But God's love is unconditional, so put it to the test, see if the colours of your life can be put into the right place for you. With God, nothing is impossible.