As part of the celebrations for the Queen's 90th birthday, three London based Christian charities have combined to publish a book called, "The Servant Queen – and the King she serves." It's 64 pages focus on the Queen's Christian faith and gives examples of how she has publicity stated her belief in God, most especially in her Christmas broadcasts, but also in other public speeches the Queen has made.
It's interesting that the Bible gives us examples of both good and bad Kings and Queens, whose lives have lessons for us today, but we can sometimes look at them as ancient history and wonder if we have the same kind of examples today.
So it's interesting that while for most of us the Queen has been a constant in our lives during her 64 year long reign, we tend to look at the office rather than the person. The Queen sets a very good example of Christianity by what she does as well as what she says. For example the Queen attends Sunday services as often as she can, but never suggests that other people should do so too. Despite her exalted position the Queen is a humble person as those who have met her can attest. How easy it would have been to become arrogant and demanding in her position. The Queen's humility stems from the fact that she is a sincere Christian, believes absolutely that there is a God and that she is a servant of that higher power.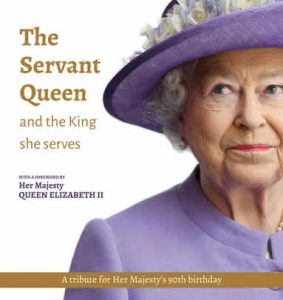 At the age of 21, when as Princess Elizabeth she dedicated her life to the service of her people, she asked God to help her make good her vow. In almost every Christmas broadcast that the Queen has made she has referred to her faith, belief in God and the valuable example set by Jesus Christ which holds true today.
In the 2014 broadcast the Queen said, " For me, the life of Jesus Christ, the Prince of Peace, whose birthday we celebrate today, is an inspiration and an anchor in my life. A role-model of reconciliation and forgiveness, He stretched out his hands in love, acceptance and healing. Christ's example has taught me to respect and value people of all faiths and none."
Those are valuable words for all Christians today. If our lives, as individual Christians reflected those words we would be happier as people and better at reflecting the light of our Lord and Saviour, Jesus Christ, to all the people we meet, whether family, friends, neighbours, work colleagues or total strangers.
I think the Queen has set us an example of humble, dedicated service during her 64 year reign and God has helped her to fulfil the vow she made in her 21st birthday broadcast.
To buy the book, The Servant Queen – and the King she serves,  at a cost of £1.00 plus postage telephone 01903 263354 or visit cpo.org.uk/thequeen