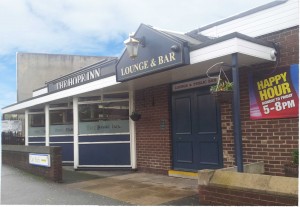 The Hope Inn opened in the late 1960's and replaced the 'Old Hope Inn' which was knocked down when York Road was widened to accommodate the growing amount of commuter traffic.  And if you've somehow failed to notice it from York Road, as a nod to the great Leeds team of the Revie era, landlord Gary Barass somehow managed to blag a massive Leeds United AFC sign in the car park.
"We get loads of people coming and having their photographs taken next to it, a couple of months ago there were a couple of Dutch lads outside who'd come over for the Bournemouth game."
The letters might have found a fitting home but more important to Gary is the 'Leeds Fans Remembrance Wall.'
"Ten years after the tragic deaths of Chris Loftus and Kevin Speight in Istanbul, there were a lot of charity events organised by their families and friends and we decided to make it into a remembrance wall.  We bought a banner in a brick design and encased it and anyone could buy a brick for a tenner or a half brick for a fiver. We also had some larger spaces which local business bought. It all went to the Candlelighters  Charity. We've still a few left and anything we get now goes into the 'charity bag' which we use to put a christmas meal on for the local pensioners. We do this every year and usually get between 40-50 for it and it's always a lovely day and it's nice to be able to put something back into the community."
The Hope Inn is a very charitable pub, last year it raised £24,000 for various charities and there are still remaining bricks for sale.   "We recently had a benefit night for the LGI liver unit, a couple of Leeds Rhinos players came down along with the Ronnie Rhino. We were also proud to have raised £12,380 for the Don Revie tribute statue"
Despite everything that's gone on at Leeds United over the last decade or so, Gary is still fanatical and travels home and away whenever he can.
"We run an official members club from the pub and put coaches on to away games. We formed it in the 07-08 season and we've over 200 members now. It's a tenner to join and a fiver a season after that. We provide transport for away games and operate a 'fair fare' policy. It's      usually a tenner for a game within Yorkshire and £15 for Northern games. Then it goes to £25 maximum, so even if we played Hereford away on a wet Tuesday night it would still only cost £25. We also have a members Christmas Party and an end of season do which includes a prize draw – for every away game a member attends he gets a ticket, so the more you go the more chance you have of winning. I think last season the winner walked off with £350."
Anyone interested in travelling to away games with a good bunch of genuine  supporters just give Gary a ring or call in   the pub for a pint. Call 0113 2480 977 or Garys details are in all the home match programmes or email Gary on:
garypaulbarrass@yahoo.co.uk