Hot Knife
The prequel to BlowbackbyJohn Lake
East Leeds Magazine, November 2011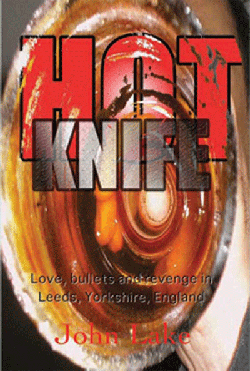 A quick look at Hot Knife the prequel to John Lakes excellent Blowback. A crime thriller and revenge tale set in the late 1990s in Leeds, Yorkshire, England, written in a social realist style.
Hot Knife is a fast moving thriller set in the seedy drugs underworld of Leeds 6. Wrapped up the harsh world of armed robbery, beatings and killings is a real life love story, can it survive the love, bullet and revenge of Leeds, Yorkshire, England?
"This bruised and tender account of lives lived on a knife edge hurtles along relentlessly, like a TWOC'ed car tearing round an estate. An unflinching portrayal of the skewed morality of the petty crime underclass, Hot Knife's real triumph is that it strives to understand more and condemn less." Russ Litten, The Yorkshire Post.
From the Author
When I began writing this novel, I was influenced mainly by 3 other books. The first was Up The Junction by Nell Dunn, which paints a portrait of a working-class community in the East End of London in the 1960s; Less Than Zero by Bret Easton Ellis, which is about the coke- riddled 'blank generation' of teenagers in Los Angeles in the 1980s; and The Thief And The Dogs by the Egyptian writer Naguib Mahfouz, a book which tells its story from the point of view of a desperate and unsympathetic criminal.
Some people have compared my novel with Trainspotting. The truth is, I didn't read Irvine Welsh's book until after I'd finished writing Hot Knife. I was aware of the film, but I'd say that the social realism of Hot Knife is much closer to a handful of other movies that includes Nil By Mouth, Dead Man's Shoes, Romper Stomper, Rita, Sue And Bob Too and the TV film Tina Goes Shopping.
Blowback Available through Amazon
ISBN: 978095546994
Hot Knife Available through Amazon
ISBN: 0955469910