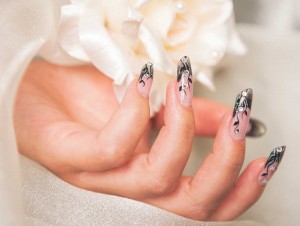 Indulge, Nails, Beauty & Training recently relocated from Beeston to Crossgates after an extensive search throughout Leeds for the perfect premises.
Justyna and Paulina are now looking forward to a bright future on Church Lane and are already looking to expand the business, which as well as being a Nail & Beauty salon will incorporate an accredited nail education academy..
If you fancy a career in nails you really would be learning from the best at Indulge.  Paulina has developed into one of the countries most promising nail technicians, winning numerous awards including the prestigious 'Scratch Stars 2013 Gel Tech of the Year' award as well as 'The Scratch Shootout 2013' prize. A beginners gel course, starting March 24th is now on offer with spaces available and you can email Paulina for info.
From the minute you walk through the door at Indulge, it's obvious they are offering you something different from other salons. After the striking decor, you will notice the two eye catching 'Pedichairs'.
Justyna explains "We wanted to create an atmosphere at Indulge that everyone can enjoy and feel relaxed in, and what better way to relax than being pampered by us while in the comfort of one of our state-of-the-art Pedichairs. The chairs have a fantastic massage facility that concentrates on the neck, shoulders, back and lower back, relieving tension and allowing you to sit back and relax while we work our magic".
Both Justyna and Paulina are always attending courses to further enhance their skills and technical portfolio's and both have a keen interest in competing nationwide. The great news is that the girls at Indulge don't just create astonishing nails, they also offer you a wonderful beauty service including eyebrow shaping/tinting, eyelash extensions, acids peels, waxing and many many more…!
One of the more popular beauty treatments amongst customers is Diamond Microdermabrasion. This is an incredible resurfacing technique used to reduce age spots, soften fine lines & treat acne or other scars. This treatment helps reduce imperfections & sun damage without compromising the skin's integrity. Each  treatment is finished with a mask chosen for your skin type and a facial massage.
Unique and personally customised pamper days or hen party packages are also available.
Indulge also offer manicures &  pedicures for men as well as facial treatments designed especially for male skin.
12 Church Lane                                              
Crossgates
Leeds LS15 8BD
0113 345 0580