James Else MBE, on his National Service and work with the Dunkirk Veterans Association.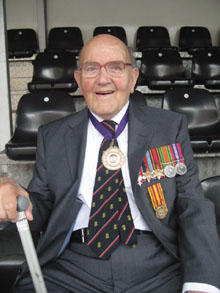 James H Else MBE has lived virtually all his life in Leeds apart from his Army service between 1939 and 1946. During his school days he was the only one at his elementary school to win a scholarship. He could have gone to college but his family didn't have the necessary funds. Instead he went to work for the Leeds Corporation Electricity Dept, before joining up. Originally he'd requested the Navy but when he reported to the barracks in Leeds for allocation and medicals he was a day late and he had been crossed off their allocation. Despite showing the Naval representation his paperwork with the incorrect date, he ended up in the Royal Army Ordnance Corps. After six weeks basic training at Chilwel, he moved to Aldershot trade testing.
Originally he was destined for Finland which was under attack by Russia but after a Peace Treaty was signed he was posted to Pornichet in Western France. There he was asked by the Camp Commander to volunteer to be his assistant. James refused, he was happy as he was. Ten minutes later he was asked again to volunteer. On a further refusal, the Commander produced a document and rail ticket posting him to the HQ of the British Infantry Division near the Belgian frontier. On arrival, he was told he was surplus to their strength and was put to work amending rules and regulations. There wasn't much for him to do so he did odd jobs around the camp and was always a willing volunteer. James became something of a free spirit. He had plenty of free time which was spent at the cinema and one time saw Gracie Fields perform at a local theatre. She struck a chord with the rebel in him when she asked the Officers to vacate the first two rows and replaced them with squaddies from the back two rows.
James idyllic existence was shattered by two large explosions while he was sitting reading a French phrase book in May 1940. "My first thought was it was practice fire, it wasn't we were under attack from the Germans."
Moved forward to the front line and under attack at the River Dyle, James saw his first close up taste of war, where he was responsible for taking Bren Gun magazines and medical supplies to the front line. Out-flanked, because the French had pullled back, they retreated to the next river line. James volunteered to be a one man recce party: "It seemed like the whole of France were fleeing the conflict, in this village. A horse and cart seemed to be leading a procession of villagers with all their wordly goods packed into prams. Then there was the rat-a-tat of machine guns and the horse and cart was on fire, the procession were either shot or managed to run for their lives, into the woods, into ditches, it was shocking and frustrating as I could do nothing about it."
"We had three strategic stops before been directed to cover La Bassee Canal as a German attack was imminent."
"I volunteered to man the Boys' anti-tanks rifle to protect the unit as they moved towards Dunkirk. It was a job no-one wanted as there was a huge risk of being killed or left behind. I nearly was. I saw the unit moving out, so I picked the rifle up and just scrambled onto the last truck."
"Then, the order came through that none of our Generals were to be taken POW. Our unit moved towards Dunkirk. On the outskirts, we ditched the truck and marched the rest of the way. They had these big ditches at the side of the road, and every time we came under fire we jumped in them. Only a direct shell could harm you in there. We made it to the sea front. To a point it was every man for himself. I jumped about 16 feet from the quay onto the deck of the destroyer HMS Greyhound. We arrived back in Dover about four the next afternoon and from there we went to Aldershot. Anthony Eden, the Foreign Secretary, came to visit us and attempted to make some speech but was drowned out by the lads shouting for leave."
There's no doubt James' experiences are part of our country's history. Operation "Dynamo" was the code name given to the evacuation of the Allied Armies from Dunkirk and neighbouring beaches between 26 May and 4 June 1940 – the celebrated 'Miracle of Dunkirk,' where 338,000 allied troops reached safety after being evacuated in boats of all shapes and sizes from Dunkirk and surrounding areas.
Most of those saved subsequently took part in operations in various parts of the world and helped to liberate Europe in 1944 and 1945, indeed James' division went on to fight the Japanese in Burma including the 64 day Battle of Kohima, which Admiral Lord Mountbatten described as one of the greatest battles in British Military history. In 1953 the Dunkirk Veterans Association was formed in Leeds and James joined as member number 18. In 1954 James was elected National treasurer, and in 1998 the National Chairman. He helped organise many pilgrimages to France and Belgium before the Association called it a day in June 2000 due to Father Time diminishing their numbers over the years.
In the same year, James and his wife Dorothy were invited to Buckingham Palace where he was presented with the MBE in recognition of his long service with the Dunkirk Veterans Association.
James is 92 years old. Sadly his wife is no longer with us, but he has two daughters and four grand children. He still lives locally and lives an active life.