Leeds writer Janine Langley Wood developed an early taste for horror when, aged about nine, she'd sneak the Pan Books of Horror from her auntie's bookshelves and devour them in secret.
Throughout her life, she's continued to write and over the past few years things have gained momentum. There have been several anthology appearances, and since gaining a place in The Screaming Book of Horror alongside greats like John Burke and Charlie Higson, her first horror novel Damned Rite: MELT achieved a runner-up position in the international 'Rogue-Writing Contest' which resulted in a publishing deal with US publisher, Assent. Hopefully, Janine is now firmly set on course for a career as an author of the macabre; something of a contrast for an animal loving, bird rescuing pacifist.
"I love horror, I couldn't imagine myself sitting down and writing a chick-lit. As a writer I'm constantly plagued by ideas that need to find their way onto paper or screen lest my brain should explode in Aldi or Farm-Foods, showering unwitting shoppers with untold visions of dark and sinister places, of hideous crimes and befitting punishments, along with some unsavoury characters they'd rather not introduce their grandmothers to."
Her first horror novel, Damned Rite: MELT will be released on 12th December on ebook via Amazon and Barnes & Noble, and in paperback from January 2015. It's a book which finds us in an ever more crime blighted world 'where the cry goes out for a newer, tougher superhero: enter The Malakh, a shape-shifting entity with a penchant for comedy and an unstoppable appetite for cold hard justice. Father Fionn Malloy is the faith-shaken priest who unwittingly resurrects the entity, but to what fateful end?'
Commenting on her influences, Janine says, " I've always read more horror than anything else, not splatter-gore particularly, though I don't mind some as part of a good plot. I've tried a lot of writers but prefer the well written stuff like Shirley Jackson, Stephen King and James Herbert. I also like the ghost stories of MR James and their adaptations by the BBC for a great Christmas scare. I've recently been collecting some of the old Pan Books, revisiting those. And here's a coincidence: Screaming Dreams' editor Johnny Mains, who compiled The Screaming Book of Horror, also wrote the introduction to the recently re-released 1st Pan Book of Horror Stories, and the biography of their late editor Herbert Van Thal."
Janine was advised by her careers officer at school to go find a job in Asda, which she did, though it didn't last long as she fell pregnant with her first of two children at a relatively young age. Later, during a twelve year stay in Newcastle upon Tyne, she studied at Northumbria University, where she gained an MA in Literature / Creative Writing, then later, back in Leeds, she gained two diplomas, one in teaching and another in teaching English.
"Basically, I'm driven to write, and if I don't make time to do it the ideas pile up and drive me nuts. I studied at Northumbria University, but after a long love affair with the North East of England I'm back living in Leeds and like those most famous of Yorkshire writing lasses, The Brontes, I gravitate towards the moors, for inspiration and peace enough to dream up the next big scare."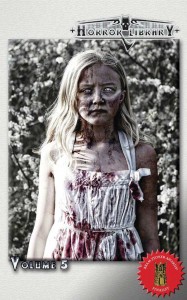 When Janine's not writing she's teaching, her students ranging from prison inmates and ESOL beginners to Foundation Degree writers. In the last couple of years she's guested as a writer, delivering Matchbook Poetry and Hero's Journey Workshops, to primary schools schools around Leeds, including Ebor Gardens, Barwick in Elmett and Rothwell.
"I know there are plenty of warmer places to be than Yorkshire, but when I'm up at the top of Ilkley Moors, I think even if I fell out of the sky this land couldn't hurt me, I love it so much, and it's mine."