Josh 'The Warrior' Warrington probably needs very little introduction in these parts. A former pupil at John Smeaton school, Josh went on to train as a dental technician. But he's made his name knocking teeth out not repairing them and in an amazing last two years has won the British, Commonwealth and European Featherweight titles.
On April 11th he's stepping in the ring at the Leeds arena with former Philippine world bantamweight champion, Dennis Tubieron in an eliminator for the WBC World Featherweight Title.
Obviously the last year or so has been an amazing blur for Josh but he still found time to have a quick chat with us last week, breaking off training and filming a promo video for Sky TV.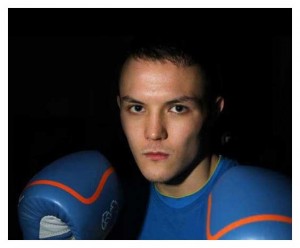 "I like to do the grass roots stuff, I'm a Leeds lad born and bred, lived most of my life on York Road and went to Smeaton. I started boxing when I was seven, as I got into my teens and I was entering national championships my school were really supportive of me, letting me leave early when I should have been studying for my GCSE's. I got into it through my Dad who also trains me. He didn't have an outstanding boxing career but he's a first class trainer and can read a fight really well. I first went boxing at East Leeds Boxing Club at the Star Gym, where Nicola Adams also began."
Josh had 42 amateur fights before turning pro on 31st October 2009, age 18.
"It was a great grounding for professional boxing and I won a few national titles along the way but it wasn't all plain sailing, at amateur level the fights come thick and fast and over 3 or 4 rounds, anything can happen. My first pro fight was a four rounder against a seasoned journeyman called Delroy Spencer. I was 18 and it wasn't easy, he might not have had the best record but he was an experienced pro and I was happy to get a points decision. It was a totally different experience without the head guard and the ref said 'welcome to the pro's' after the fight.
Most of Josh's early fights were points decisions, you could say he was more of a technical boxer than a big hitter. However in many peoples eyes, he's developed into a big hitter as his career has progressed.
"I'd say that's only partially true, I was a scrawny 18 year old when I turned Pro, I'm six years further on now, the early days were all about getting the rounds in. There were a couple of times when I could have finished an opponent off in the first round but I kept my head and boxed for the experience. We always had our eyes on fighting at championship level and the early days were part of my preparation for where I am now."
Josh landed his first professional title, the vacant BBBofC English featherweight title in his twelfth fight, he defended it on two occasions before beating Samir Mouneimne to win the Commonwealth title. After two defences (the second of which he also collected the British title) he then capped that by winning the EBU European title at the Leeds Arena, a venue which has become a home from home for him.
"Oh yeah, the Arena, I love it! I couldn't believe the atmosphere the first time I boxed there, I might as well have been in the South Stand! Plus I've got Vinnie Jones walking me out this time, what more can I say. When I worked as a dental technician, I used to pass the arena as it was built and I thought I'd love to box there. Winning the British title there was a night that will stay with me forever and I've had people come up to me and say it was one of the best nights of their lives as well, which is quite humbling and puts a bit of a lump in my throat."