If any of you have wondered where I've been the last few months, I've not been out and about on my my bike as I was knocked off around a year ago and since then have been back and forth to see various specialists and undergo operations. I can't say too much about the accident as there is still an ongoing legal case but I want to use my accident as a warning that even the most experienced cyclist can come a cropper.
So, even though it's still British summer time, as the nights draw in, it's even more important to make sure you're properly and safely attired. And I don't mean dressing head to toe in Lycra! I mean lights, reflectors, hi-visibility clothing and a helmet. And make sure your bike is looked after, I can't stress enough how important it is to make sure your brakes and gears are up to scratch. Just call in and see us, we offer a free safety assessment and a few quid spent on your own safety is money well spent.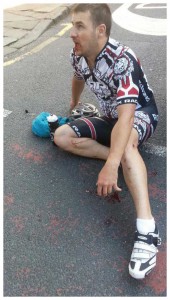 If you ever are unfortunate enough to be involved in an accident while out on your bike, the procedure is not much different than if you were involved in an accident whilst driving a car. If at all possible, get the drivers name and address and also the registration number of the car. Get the name of the drivers insurance and if at all possible photographs of the accident scene. I was lucky a friend of mine was nearby and took some pictures, I wasn't really in any kind of state to do it myself. Go to your GP or hospital – get yourself checked out – you never know. Lastly, whether you do it yourself or someone does it for you, call 101 which is a newish number for police non emergencies, ask for a crime number. Here at Kings of Cycling we also offer a Free Cycling Accident Report which is something you will need for any insurance claim.
I'm a member of the British Cycling Association which means I am covered under their insurance, however if you are not a member, it might pay you to get yourself insured for when you're on your bike, I think prices start at around a fiver a month but if you get a decent policy it should also cover you against theft, money well spent.