It's almost a year since we ran our last article on Seacroft's Thai boxing prospect Kobe Christopher. Aged 16 now, Kobe is a budding artist and he's now in his first year at Park Lane college studying art and design, in the future, he would like to work in the future doing animation or game design.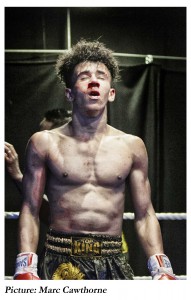 And while all that's going on, Kobe is still learning his trade as a Muay Thai fighter and is a great prospect for the future as he continues to impress his trainers Dale and Dean White at their gym based at the Activ Zone in Morley. Kobe is currently heavily in training for his next fight on the 1st March at The Frontier Night Club in Batley, which hopefully is the first step for Kobe on a road map towards a British Title challenge.
Kobe has embraced the spiritual side of Muay Thai, which is the fastest growing martial art in the UK especially amongst youngsters. In July this year, thanks to the generous sponsorship of Leeds Pallet Company he will be attending a training camp at the legendary 'Sasiprapa Gym' in Bangkok, Thailand, the spiritual home of Muay  Thai.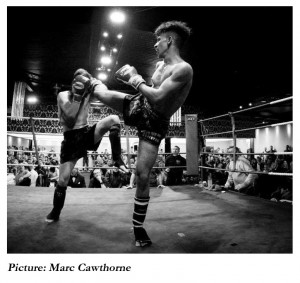 He's had three fights and three wins since our last feature, the most notable beating the rated Dutch prospect Yilmaz Kayman on a spilt decision. Although trainer Dean is keen to play things down, he's been impressed by Kobe's attitude and dedication and with youth on his side he hopes he will achieve big things in the sport.