Article sponsored by www.uk-gravel.com
We've featured Seacroft's seventeen year old Thai boxer Kobe Christopher before and thought it was a good time to give you a quick update on his progress.

He's had five fights since we featured him last February and he's won them all, giving him a record of nine wins out of nine fights. Last summer he travelled over to Thailand where he trained at the Grand Muay Thai Gym in Hua Hin and then fought on their show against a local Thai boxer. He won the fight in round one by TKO, so it seems he is making good progress.
Prior to fighting in Thailand he won the Muay Thai UK Northern Area Title in Selkirk by 4th round TKO against a strong local opponent.
For one so young, Kobe oozes confidence and although quietly spoken, one of our regular contributors recently
compared him to Chris Eubank in stature and it's true, there's a bit of a showman in there just itching to get out as trainer Dean White explains.
"We've noticed some outlandish gear with Kobe in the last year or so but when we went up to Selkirk he really excelled, I'd been talking with another trainer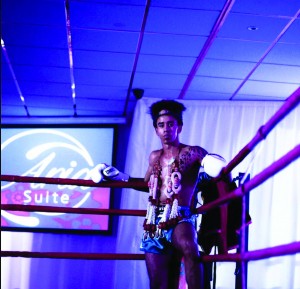 and went through to where the medicals were taking place. All the fighters were stood in line, you could spot Kobe three quarters way down the queue by the top hat he was wearing. I usually prefer my fighters to keep a low profile, it's the type of thing that can wind an opponent up, but it's part of Kobes personality and he's got the skills to back it up."
Kobe recently signed a sponsorship with UK-Gravel Ltd and spokeswoman Alix Siddall seems equally expressive about him.
"We see him two days a week, when he's not at Leeds City College where he's studying Creative Media. He also trains three to four nights a week and follows a strict diet, so we knew he was disciplined. We'd already seen him fight and train at Dean's and thought why not, he's clearly got the potential and he's been invaluable helping us out with the E-commerce and social media side
of the business.

We're helping him get to Thai­land for another fight on the 4th August this year but before that he's fighting a Dutch opponent on Sunday 6th March at Batley Frontier on Dean Whites Show and he's got one eye on fighting for a British Title sometime this year. Although I must stress, we don't mean to put too much pressure on him, he's still got a lot to learn but as a business we're proud to help a young local talent, who will hopefully go all the way."