A busy last few weeks for myself and the Bethlehem boxers which includes the professional debut of Sophie Varley on my show on the 22nd April. Unfortunately, as I write this, deadlines dictate the fight will have already taken place by the time this drops through your letterbox but I thought it was worth spending a bit of time letting you know about the latest addition to 'Team Sophie.'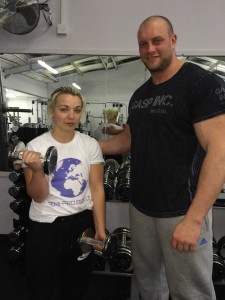 After last times disaster regarding making the weight, we've brought on board a strengthening, conditioning and dietary advisor. So it's a great privilege to welcome former Mr Britain, Mr World and Mr Universe. Stuart Garrington who runs the Leodis Gym on Easy Road, he's also given Sophie a job as gym assistant, which is great because it gets her out of my hair for a while. Seriously, Stuart comes with a wealth of experience concerning diet and conditioning and let's face it, you don't become as successful as him without knowing a thing or too. It's similar to when Ricky Hatton added Kerry Kayes to his team adding the science and nutritional knowledge. It proves how serious Sophie and I are about professional boxing. Even after a few days, I could see the difference in Sophie, she's doubled up her training work load and gone into it in her usual SophieStyle, for me it's to be expected of her.

Talking of women's boxing, the gym is full every Tuesday night with around 50 pink collar boxers. You might have already seen them on Bethlehem Boxing on the Made in Leeds Channel and seen me refereeing a couple of Pink Collar fights. It's interesting to see how the girls develop once they've walked through the Bethlehem doors for the first time, some never come back again, others take to it and become serious female boxers, although out of the fifty in the gym at the moment, I reckon thirty will step into the ring at least once.

Bethlehem are taking a team (plus a few friends) over to Malta in May for a televised MBC show which is headline by Billy Corito defending his Maltese heavyweight belt. The Bethlehem team will be making up the semi-pro ranks so good luck to Wayne Garwood, Ryan Taylor and Chucky Robson who are joined by a few friends from my old sparring partner 'Mad Mark' Frank's Rock gym in Wakefield. Also on the MBC sanctioned show in Malta is former commonwealth champion Scott Dixon who readers may remember a few years ago had a war with Derek Roche.  The show in Malta is at the Aria which is ironic as my shows are at the Aria in Leeds ! We are still in negotiation as to whether the TV footage can be shown on Made in Leeds. I hope it comes off because 'Bethlehem Goes to Malta' would be a totally different angle to what we've shown before.

Bethlehem Boxing on Made in Leeds TV has proved to be very successful and I'm still having people contact me from the Tyne & Wear, Teeside and Cardiff area's among others, where the TV program has been shown. It's great to hear from old friends (and new) but it is proving to make matchmaking for some of the boxers a lot more difficult, however on the upside, I'm in talks with promoters from all of the 'Made' areas regarding taking a team from Leeds to different parts of the country and vice versa. The first of these will be at Hungtindon WMC (York), for a York versus Leeds show on May 27th, which promises to be real grass roots stuff. Some of the York boxers have trained at Bethlehem and been featured on the show which has lead to a surge in ticket sales and I'm told the show is already virtually a sell out. It just proves, everyone wants to be on the telly!