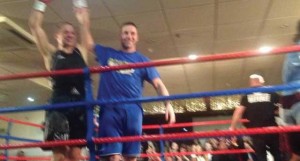 There's only one place to start this column, the recent show at Bramley Villagers Club which brought another EBF title to Bethlehem.
The evening started well with Shabia making his debut as a white collar boxer followed by Dean Ash and Lee Williams proving they are capable to making the step up to full EBF boxing.
Darius Stoney, who some of you might know from Bulk Builders was on the wrong end of a spilt decision before  Crossgates based nineteen year old Liam Hayes set the place alight with a convincing win against a very experienced opponent from Middlesbrough. Liam will be fighting for the EBF Celtic title soon, so it was a great test for him.
So, next to Sam Smith and a rematch of the titanic tussle for the WBU Women's Light weight inter continential title against Belfast's Carly Mc.Naul.  Sam came out on top before and it's taken eighteen months to get the rematch together, it was worth it but as usual not as straight forward as I would have liked. We knew how tough Carly was and this was her last fight before turning fully professional. We'd set a game plan out, which went out of the window in the first round when Sam partly  dislocated her left shoulder.
Sam, being Sam didn't want me to know but I've experienced similar and knew straight away what had happened. I know Sam well enough not to let her know I knew, (hope you're following this)I haven't got room to explain the psychology involved here but it really was a case of a trainer knowing his boxer and how to deal with it without affecting her state of mind. I told her to use her right more as the original plan with the left wasn't working as well as I hoped. Sam then went through the pain barrier and pretty much dominated the fight before stopping Carly in the fourth round. A fantastic win and performance.
Some of you might be familiar with Seacrofts Graham Mattison. He was a former world power lifting champion before turning his hand to boxing. It was only his second fight but he boxed like he'd been doing it for years and stopped a very experienced opponent in the second round.
Last up was Biily 'DJ Bizz' Wilkinsons big moment. He'd finally got a crack at the EBF British title at bantamweight, his natural weight. After having to flit between featherweight and flyweight just to get fights (7-8 stone is always a difficult weight) he was in his element as he destroyed his opponent in one minute twenty seconds of the first round.
All in all a superb evening and as well as the boxers I'd like to say a big thank you to the amazing audience who really made the night so special. It might have been Bramley Villagers but the atmosphere generated was fit for Madison Square Gardens. I'm hoping to put another show on there in early April.
On a personal note I was due to fight in America on January 23rd. Unfortunately I had to cancel the fight as there was a query on my annual medical (compulsory for professional boxers) It's not something I want to take a chance with so I'm still waiting to hear the results of further tests. I'm hopeful the WBU World title fight will still go ahead but at the moment I've no choice but to play the waiting game.