Sam Smith made her much anticipated London début at the legendary York Hall earlier in the month. I would love to say she scored an impressive first round victory, well she did but again her Latvian opponent fell short of what we expected and Sam hardly broke sweat. I was annoyed but it was beyond my control as I didn't promote the show and I suppose to a casual observer it probably looked pretty impressive.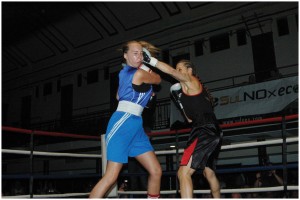 I'm hoping her next defence of the MBC British Masters Bronze and International Bronze Masters Title she won so impressively at Garforth Town FC will be a bit more of a test for her. Some of you may be familiar with her opponent, former Big Brother (2009) contestant Angel McKenzie. Angel has had 35 pro fights and recently went up two weight divisions to fight for the IBF Welterweight World title. She went the 10 rounds distance and only lost on points which is highly commendable considering she is a natural lightweight. So we are hoping this will be a really big test for Sam against a very experienced opponent.
If Sam wins, I am hoping to get a world body to sanction another fight I have scheduled for her, against the undefeated Greek boxer Cristina Linardatou, which will be for an international belt.
Also on the bill is Sophie Varley who is defending her EBF English Bantamweight title against Nottingham's Cheryl Wright, again an experienced opponent. We've also got Jody 'Entertainment' Miekle on the bill who is fighting Lee Kellet in a rematch of their Pryzm fight which Jody won on points. This time it's also for the MBC British masters Bronze and International bronze masters title and if Jody wins, he's at a level where he could be in for a shout of a South African title as his Mother was born over there. Jody is worth the admission alone and I wouldn't argue with a quote recently about him where he was cited as the most entertaining boxer in Britian.
It's all a bit hush-hush at the moment but I'm in the frame to put on a fight in one of my up and coming shows which has 'Hollywood' written all over it. The UK's oldest active boxer is Mansfield's Steve Ward who is still fighting in his early 60's. He's matched against a famous, (actually very famous,) Hollywood legend in a fight (if it actually happens) which will go in the Guiness Book of records as the oldest fight featuring two active boxers. We'll just have to wait and see what happens there but it's an interesting proposition and I'll give you a clue, it's an 'Irish Affair'. Steve has had a long career and interestingly Leeds former European and Commonwealth champion Crawford Ashley actually made his début against him back in 1987, considering Crawford retired thirteen years ago, it gives a good idea of the fitness and dedication Steve has shown to still be getting in the ring when he's almost ready for his free bus pass, and I mean that with the utmost respect!