My last show of 2015 was at a new venue, the Aria Suite on Woodhouse Street. The show was sold out weeks in advance and the venue proved to be very popular, not least for the cheaper beer prices than previous venues! It also gave me a return to grass roots boxing by allowing under 18's in which was something I felt had been missing from previous shows.
The main event on the show was Sam Smith's challenge for the Universal Boxing Federation's International Lightweight title against the previously undefeated Greek based Christina Linardatou. A few people questioned my match making which was pitching two undefeated fighters together relatively early in their pro careers. My answer is simple, Sam is 35 and hasn't got time to waste. I've said previously in this column we were aiming at a higher level and looking to take our chances with quality opponents.
So, this was Sam's first ten rounder and we knew it would be something different from the start. Training was even more intense than usual and I knew she would need a fight plan. Now, there's a saying which goes, 'Plans are for architects, records are for DJ's,' and in the first round we found out why. Maybe the occasion got to Sam but she gave a very dangerous opponent a free shot and she returned it with interest, knocking Sam down for the first time in her career in the first round.
To Sam's credit, she got up and managed to get through the round and then for the next three rounds she stuck to the plan and probably evened things up on points. There's an old adage in boxing, 'Box a fighter and fight a boxer' and never were such words true as Sam attempted to box her opponent but Christina was indomitable and the rest of the fight see-sawed. At the final bell, I honestly had no idea who was on top, it had been such an intense ten rounds and I was more concerned with watching Sam than the fight if that makes any sense.
After a few minutes consultation the judges gave their score cards and MC Tony Dean announced Sam as the winner. With a sigh of relief I went back to the changing room, emotionally drained and leaving Sam and the belt to the photographs. Then someone from the UBF/MBC commission pulled me to one side and told me there had been some kind of mistake and somehow the blue corner/red corner had got mixed up and Sam had lost 96-95. The Commissioner then had the unenviable task of breaking the bad news to Sam, who took it extremely well, better than anyone could have imagined but taken like the true professional she is.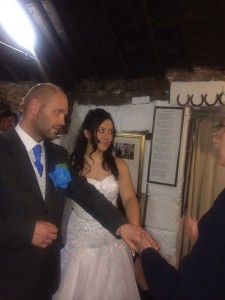 And that pretty much overshadowed what was a great afternoon's boxing, although I have to mention Jody Miekle who beat former Irish light heavyweight champion John Waldron to retain his MBC Cruiserweight International Masters Bronze belt. Jody seemed like a man in a hurry and managed to stop an opponent with great pedigree in the first round, coming out of the fight without a mark on him, which was just as well as he went to Gretna Green a couple of days later and got married! (see pic above)
I'd like to take this opportunity to wish everyone a happy new year, my next show will be on February 27th at the Aria Suite and for those of you who watched us on Made in Leeds TV, there will be a new season starting in January.