Only one place to start this issue, Sam Smith and her first big title fight as a professional boxer at my show at Garforth Town FC at the beginning of the month. Her opponent Zsofia Bedo came from Hungary and had experience in abundance with over 220 rounds under her belt in what was to be her 48th fight. So she was definitely a step up for Sam who previously had only two pro fights, neither seeing out the first round. Zsofia proved to be a canny, evasive opponent but Sam controlled the fight from the beginning and her superiority saw her win by technical knockout in the third round out of the scheduled eight to win the International Masters Bronze Lightweight belt.
So what next for Sam? Personally, I'd like to see her fighting in Europe and Germany seems to offer a lot of female boxers who offer a step up. She was actually offered a fight there a few weeks ago at short notice which she accepted only for them to back track at the last minute.
Back to Garforth and it's fair to say the boxers from Bethlehem didn't have it all their own way. Alex Ferguson lost his first ever title fight – the EBF Celtic Middleweight belt – quite simply he wasn't at his best and he needed to be against a very tough opponent. Crossgates fighter Liam Hayes was also on the wrong end of a points decision which wasn't helped by being caught by a late sucker punch.
A real positive was Jodie Willkinson. Jodie played ladies rugby before trying her hand at boxing and she brought with her not small amount of skill and aggression from the rugby pitch. This was her third EBF fight, she won last time out at the Pryzm and was unlucky to draw in Stoke.
The Garforth Show was filmed by Made in Leeds TV and will be shown over two episodes, they're aleo talking about doing a Sam Smith special.
So my next show is October 4th and we're back indoors at the Pryzm. Jody Meikle who I am now managing is also fighting for a British Masters Belt against Lee Kellett, a rematch of the last Pryzm show which Jody won on points. At the time of writing it's a little early to commit to the rest of the bill. Jody has had a chequered professional career and it's great to see him in contention for a title, if he wins it he'll be in good company alongside John-Joe Finnegan, Ruben Groenewald, Ricky Burns, Curtis Woodhouse as well as my good self!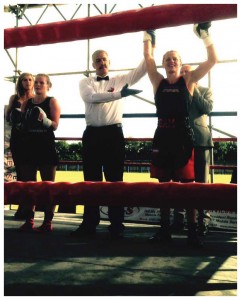 On a personal note I will be one of the judges for the Roy Jones Junior against Tony Moran in Liverpool For the vacant MBC International and vacant WBF Intercontinental Cruiserweight titles, I will also be refereeing some of the undercard.
Last but not least, Fighting Down in Bethlehem is now available on DVD at the meagre cost of £4.99, just give me a call or find me on Facebook if you would like a copy.