I'll start at my last show at Prysm Night Club on June 8th. A big thank you to everyone who came, it was a sell out with a fantastic atmosphere.
 In the ring, the show had it all, explosive action, highs and lows coupled with one or two shocks. We had three women's title fights on, two EBF and one WBU.  I'm not sure if that's ever been done before in the UK. This was the second phase of the series and it's proving to be a real success. The crowds are getting behind the girls and we've seen some great      battles.
  Lady Elle is now the proud owner of the EBF Northern Area Lightweight Belt in what was the fight of the day against Mel Halstead. Mel, who combines boxing with playing for Hull City Ladies will be after a rematch after the show they both put on.
Michelle Mc.Kenzie who won the  EBF Central Area Lightweight title in the first phase in York, made her first title defence against Helen Walsh. Both girls gave their best and a draw was a fair result and they will both be looking forward to the rematch in September. Michelle and Helen both have something in common, they've both lost against our own Sam Smith, who seems to be seen recently as the inspirational mother figure for all up and coming women's EBF boxers.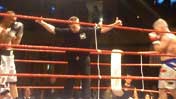 Sam was defending her WBU Inter Continental Title against Tenerife's Geneva Morales Gonzales. I wasn't expecting a push over, Geneva is an experienced opponent and comes from good stock in the Noblearte Clubdeboxeo. The first round was pretty even but then Sam came out in the second like a women possessed and gave her three counts before the referee stopped the fight. Perhaps the surprise of the show was Seacroft's former
power lifting champion Graham Mattesons first round defeat. He has taken to boxing so well and even though he has only had a few fights, he's already beaten some notable opponents but this time it wasn't his day although I'm sure he'll learn from it. Lee Mudd finished off his opponent early on and Crossgates fighter Liam Hayes finally got a shot at the EBF Yorkshire area title after so many cancellations. He admitted to being nervous before the fight and maybe nerves got the better of him as he was stopped in the third round.
   I'll have my next show on at Bramley on 3rd August, which will feature more female bouts and under 16s. It's going to be a real family day with kids being admitted free of charge (with an adult of course),  we might see a couple of rematches from the Prysm show.I'm refereeing in Malta again at the end of the month, the last time I was there, I refereed what has become known as the Battle of Malta. Marlon Conrad- Hunt a 13 times Thai Boxing World Champion who has turned hs hand to boxing recently, took on Steve Aquilina a veteran fighter who was once in the same ring as Chris Eubank. To begin with Aquilina was quality to watch, he really gave us all a lesson on movement and how to use your experience. However Marlon's relative youth began to show as the fight went on and eventually he got through with a few big shots. It's hard to do justice to what was a  brilliant fight.
Marlon has now gained his MBC professional license and it's nice I had a hand in it as I was asked my opinion in a meeting with official Leif magnason and Mark James, the head of the Maltese Boxing Commission. Amazingly he was at Leeds University many moons ago and for his sins, became a Leeds United supporter. I took him a Leeds shirt over as a goodwill gesture, although some might say a gesture of sympathy!